THE QUEENS REIGN SUPREME IN GAME AGAINST REMPARTS
REGINA, Sask. – Michela Cava, Brianna Iazzolino and Kaitlyn Tougas all scored within two minutes of each other midway through the first period Tuesday to help the Thunder Bay Queens to a 5-1 win over the Richelieu Remparts in a game that clearly belonged to the Ontario team from the start.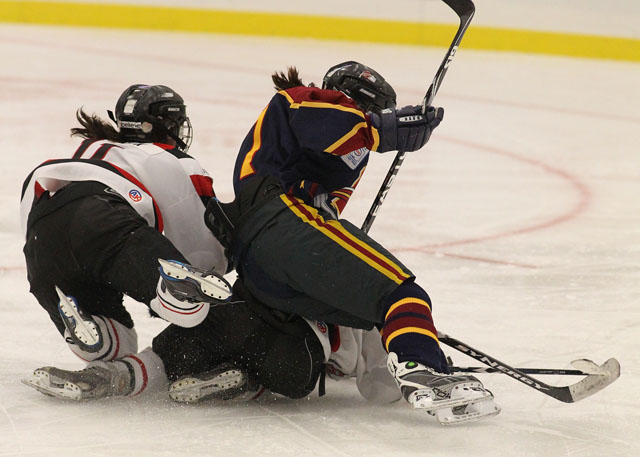 Cava (Thunder Bay, Ont.) kicked off the trio of goals at 7:49 on a pass from Tougas (Thunder Bay, Ont.), with Iazzolino (Thunder Bay, Ont.) following up exactly a minute later at 8:49 with help from Kaitlyn Quarrell (Thunder Bay, Ont.) and Tougas pocketing one of her own at 9:23 in the first, with the assist this time going to Brittany Zuback (Thunder Bay, Ont.).

The Queens reigned supreme from there on out, with the Remparts representing Quebec scrambling to keep up with the quick pace of the play on the ice. Tougas scored her second goal and third point of the game at just over five minutes into the second, with Cava pocketing another point herself by picking up credit for the assist.

The Remparts attempted to create some offensive chances, with a couple of Quebec players sneaking into the slot to find a spot alone in front of Amanda Makela (Thunder Bay, Ont.), but the Ontario netminder stood he ground throughout the second period, and Thunder Bay headed into the second intermission sitting comfortably with a 4-0 lead.

But Makela wouldn't walk away with a shutout Tuesday, with Richelieu's late game efforts resulting in a single goal on a power play early in the third. Genevieve Bannon (Candiac, Que.) was the player to put it past Makela, taking a pass out front from Allison Chute (Greenfield Park, Que.) and sliding the puck over the goal line.

It wasn't enough to catch up to the Queens, however, and Thunder Bay jumped on its own power play to cap off the score at 5-1, with Courtney Tougas (Thunder Bay, Ont.) snagging her team's final goal with just ten seconds remaining on the clock. Kaitlyn Tougas was named Player of the Game for the Queens, while Chute received the honour for the Remparts.

Both goalies also had strong games Tuesday, with Makela stopping an impressive 37 shots and Maude Byrns-Handfield (Longueuil, Que.) standing in Thunder Bay's line of fire to make 22 saves total.
Game Information
Game Number
7
Round
Round Robin
Arena
Co-operators Centre at Evraz Place
City, Country
Regina, Sask., Canada
Month / Day / Year
04/20/2010
Time (local)
12:00 PM CT
Attendance
445
Game Status
Final
| | | | | |
| --- | --- | --- | --- | --- |
| Box Score | 1 | 2 | 3 | Total |
| Thunder Bay Queens (ONT) | 3 | 1 | 1 | 5 |
| Remparts du Richelieu (QUE) | 0 | 0 | 1 | 1 |
Goals/Penalties
First Period
Goals:

07:49 ONT 8 Michela Cava (9 Kaitlyn Tougas)
08:49 ONT 4 Brianna Iazzolino (12 Kaitlyn Quarrell)
09:23 ONT 9 Kaitlyn Tougas (19 Brittany Zuback)

Penalties:
05:41 QUE 13 Karel Laplante (Bodychecking)
10:19 ONT 16 Amber Butler (Hooking)
10:44 ONT 4 Brianna Iazzolino (Interference)
12:23 QUE 5 Marie-Eve Cassivi (Tripping)
13:09 ONT 21 Kylie Cornell (Tripping)

Second Period
Goals:

05:05 ONT 9 Kaitlyn Tougas (8 Michela Cava)

Penalties:
01:25 ONT 21 Kylie Cornell (Interference)
07:20 QUE 6 Geneviève Bannon (Hooking)
08:26 ONT 16 Amber Butler (Bodychecking)
14:59 ONT 8 Michela Cava (Tripping)
15:42 ONT 4 Brianna Iazzolino (Interference)
16:15 QUE 24 Valérie St-Onge (Hooking)
19:14 QUE 4 Véronique Lortie (Cross Checking)

Third Period
Goals:

01:44 QUE 6 Geneviève Bannon (7 Allison Chute, 21 Rebecca Laganière)
19:51 ONT 5 Courtney Tougas (21 Kylie Cornell, 12 Kaitlyn Quarrell)

Penalties:
04:05 QUE 24 Valérie St-Onge (Tripping)

Goaltenders
Thunder Bay Queens

| | | |
| --- | --- | --- |
| 30 Amanda Makela | On 1/00:00 | Off 3/20:00 |

Remparts du Richelieu

| | | |
| --- | --- | --- |
| 30 Maude Byrns-Handfield | On 1/00:00 | Off 3/20:00 |
| | | | | |
| --- | --- | --- | --- | --- |
| Shots on Goal | 1 | 2 | 3 | Total |
| Thunder Bay Queens | 10 | 12 | 15 | 37 |
| Remparts du Richelieu | 10 | 12 | 6 | 28 |
Player of Game
Thunder Bay Queens
9 Kaitlyn Tougas
Remparts du Richelieu
7 Allison Chute
Officials
Referee
Melodie Boulet
Lines People
Ashley Richter, Kari Laborde
Goal Judge
Al Schaefer, Gerry Filteau