QUEENS EDGE REBELS 2-1 IN HOME TEAM'S TOURNEY OPENER

REGINA, Sask. – The goaltenders were the stars of the game Sunday night inside the Co-operators Centre, with Amanda Makela (Thunder Bay, Ont.) making 24 saves and Krista Funke (Regina, Sask.) stopping 27 shots, but it would be the Thunder Bay Queens who came out on top 2-1 after three periods of play.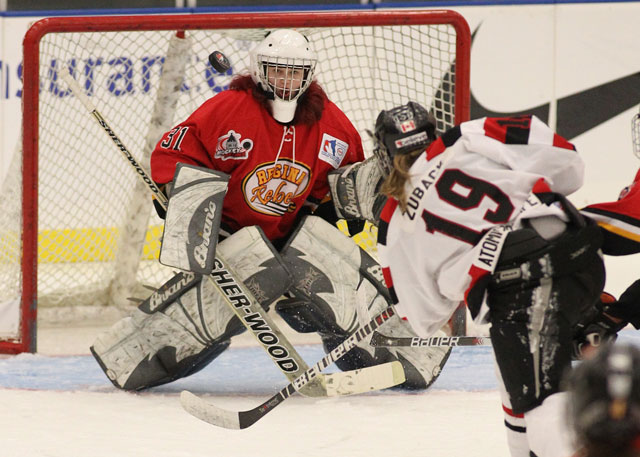 The Queens came back from a 1-0 deficit to edge the Rebels, who had a hometown crowd backing them up. The fans erupted in ear-piercing cheers when Patricia McGauley (Regina, Sask.) opened the scoring on a power play late in the first on a puck from Brittany MacDougall (Regina, Sask.).

But despite the hoots and hollers from the stands, the action on the ice shifted to Thunder Bay's favour by the time the second rolled around, with Brittany Zuback (Thunder Bay, Ont.) slipping it by Funke at 17:25 on assists from Michela Cava (Thunder Bay, Ont.) and Kaitlyn Tougas (Thunder Bay, Ont.).

Makela made a spectacular save part way through the second, sliding across the crease to stop a Regina shot and keeping the Queens in the game. Thunder Bay's next goal came at 7:30 in the third, when Courtney Tougas (Thunder Bay, Ont.) scored the unassisted game winner.

Despite plenty of back-and-forth play and intensity both in the stands and on the ice, the Thunder Bay Queens skated away with the win and three points to start the tournament. McGauley was Player of the Game for Regina, while Makela claimed that title for Thunder Bay.
Game Information
Game Number
3
Round
Round Robin
Arena
Co-operators Centre at Evraz Place
City, Country
Regina, Sask., Canada
Month / Day / Year
04/18/2010
Time (local)
08:00 PM CT
Attendance
Game Status
Final
| | | | | |
| --- | --- | --- | --- | --- |
| Box Score | 1 | 2 | 3 | Total |
| Thunder Bay Queens (ONT) | 0 | 1 | 1 | 2 |
| Regina Rebels (HST) | 1 | 0 | 0 | 1 |
Goals/Penalties
First Period
Goals:

01:11 HST 7 Patricia McGauley (17 Brittany MacDougall) PP

Penalties:
00:32 HST 11 Paige Anakaer (Elbowing)
04:10 HST 18 Molly Findlay (Hooking)
17:37 ONT 17 Savanna Gamache (Interference)

Second Period
Goals:

17:25 ONT 19 Brittany Zuback (8 Michela Cava, 9 Kaitlyn Tougas)

Penalties:
05:59 HST 8 Melissa Folk (Interference)
09:23 HST 16 Kelsa Duffy (Roughing)

Third Period
Goals:

07:30 ONT 5 Courtney Tougas

Penalties:
11:59 HST 19 Kristin Boan (Interference)
14:18 HST 10 Tayler Kosloski (High Sticking)
19:30 ONT 9 Kaitlyn Tougas (Roughing)

Goaltenders
Thunder Bay Queens

| | | |
| --- | --- | --- |
| 30 Amanda Makela | On 1/00:00 | Off 3/20:00 |

Regina Rebels

| | | |
| --- | --- | --- |
| 31 Krista Funke | On 1/00:00 | Off 3/20:00 |
| | | | | |
| --- | --- | --- | --- | --- |
| Shots on Goal | 1 | 2 | 3 | Total |
| Thunder Bay Queens | 7 | 11 | 11 | 29 |
| Regina Rebels | 9 | 11 | 5 | 25 |
Player of Game
Thunder Bay Queens
30 Amanda Makela
Regina Rebels
7 Patricia McGauley
Officials
Referee
Ashley Desjardins
Lines People
Ashley Richter, Kim Hebert
Goal Judge
Al Schaefer, Gerry Filteau