by: Derek Kelly Neumeier
A four-goal first period eruption set the tone early as the Esso Cup host Calgary Flyers skated to a dominating 6-0 win over the Scarborough Sharks in their opening game of the tournament.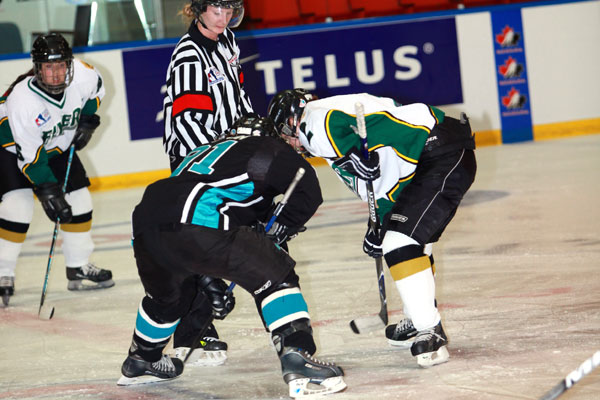 Flyers forward Ferran Brown started the scoring with a powerplay goal 8:18 into the first and her team never looked back from there, outplaying the Sharks in every aspect of the game until the final buzzer.
Sadie Lenstra and Erin Lally led the way for the Flyers offensively, each scoring a goal and two assists. Brittany Styner and Shawna Griffin also played large roles with two points apiece.
Calgary goalie Bailey Toupin was stellar all game long, stopping all shots she faced and turning away many solid scoring chances en route to the first shutout of the tournament.
Special teams were a major difference maker in the game, as Calgary capitalized on their man-advantage time by going three-for-nine on the powerplay, while Scarborough was held scoreless on all six of their attempts.
The host Flyers will look to keep their momentum going with a win over the Northern Stars tomorrow night. The Sharks are hoping to rebound from the loss by defeating the Edmonton Thunder tomorrow afternoon.
LISTEN!
LISTEN!