SHARKS SHOCK FLYERS, ADVANCE TO GOLD MEDAL GAME
by Derek Kelly Neumeier
The Scarborough Sharks are on their way to the gold medal game of the Esso Cup following a huge 3-2 upset of the host Calgary Flyers in Friday night's second semifinal.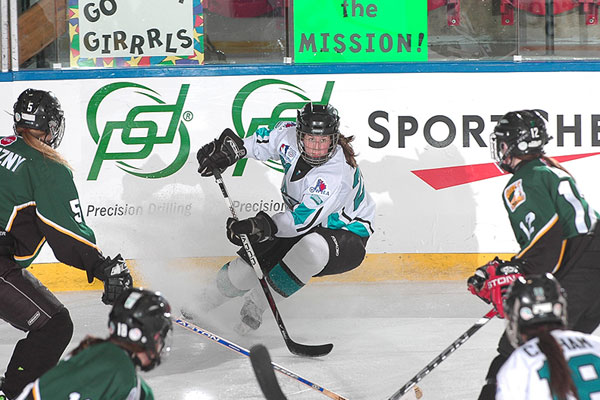 LISTEN!:
LISTEN!
Despite being dominated in a 6-0 shutout by the Flyers earlier in the week, the Sharks exacted their revenge on Friday, playing their best hockey so far and ending Calgary's undefeated run.
Calgary forward Brittany Styner, the leading scorer in the tournament, scored the first goal of the game 15:54 into the first, but Kaitlyn Keon of the Sharks scored in the final minute to tie the game up going into the intermission.
The second period saw no goals scored as the two teams played cautious hockey, but increased their energy levels for the third with the game on the line. Sharks forward Annie Shapero broke the deadlock 3:58 into the frame, intercepting a pass in front of the Flyers net and converting to give her team a 2-1 lead.
The Shapero goal appeared to rattle Calgary and the Sharks took advantage, applying a ton of pressure on the Flyers. That pressure paid off at 9:51 when defender Megan Wickens took a slick drop pass from Emilie Canham and fired a shot through a screen that fooled Calgary goaltender Bailey Toupin, extending the Sharks lead to 3-1.
The Flyers refused to give up and battled back in the dying minutes, cutting to lead to 3-2 on Kayla Kaluzny's goal with a mere 4:34 to go. With the goalie pulled in the final minute they came within inches of tying the game during a mad scramble in front of the Sharks net but were unable to bury the puck. Scarborough was able to exit their zone and seal the game at 4-2 with an empty netter, completing the improbable upset.
Scarborough goaltender Marissa Kozovski was instrumental in her team's victory, stopping 31 out of 33 shots and earning Player of the Game honours for the Sharks.
The Sharks are currently red-hot heading into Saturday's gold medal finale against the Westman Wildcats, having won three straight games, including a 3-1 win over the Wildcats on Thursday.
After going 4-0 throughout the round robin the Flyers were dealt their first loss of the tournament at a very unfortunate time, and will meet their provincial rivals from Edmonton in Saturday's bronze medal game. Calgary defeated Edmonton 4-2 when they faced each other in the round robin earlier in the tournament and will be looking for a repeat victory come Saturday morning.