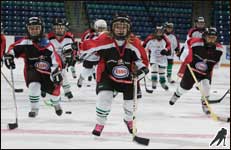 Since 1998 the Esso Fun Day Program has introduced thousands of females to the great game of hockey. In an attempt to make the program more accessible for females of all ages each Branch will have the opportunity to host 4 events funded by Esso and Hockey Canada between September 1st, 2007 and January 31st, 2008. If your community and Minor/Female Hockey Association would like to host an Esso Fun Day in 2007 please contact your Provincial Branch.
Who is the program for?
This Program is meant to be a fun day of hockey for the first time participant in the female game. If you are a female between the ages of four to eighty-one and want to give hockey a try! Esso Fun Day is for you and it's free.
What will this program do for you?
The focus of the day is to introduce players to the basics, to make new friends, and to try the game without having to make a commitment to sign up for a season.
On-ice activities are provided by individuals with Coach Level certification assisted by other on-ice role models. Individuals interested in pursuing hockey even further are given an opportunity to sign up at the program.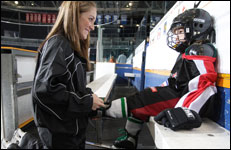 How do I get involved?
Each Province across Canada would host a minimum of one Esso Fun Day per season. Contact your Provincial Female Representative or your Provincial Branch for more information on how and where to register.
Coaches can also contact the Female Branch Rep or the Provincial Branch office to find out about helping out on or off ice.
Register Now
Download 2006 Esso Fun Day Poster (pdf 580 KB)
UPCOMING ESSO FUN DAYS
| | | |
| --- | --- | --- |
| Date | Organizer/ Location | Contact |
| Sept 13 | High River, AB | Trent Bleackley |
| Sept 20 | Terrace, BC | Mario Desjardins |
| Sept 20 | Vancouver, BC | Don Haliburton |
| Sept 20 | Saint John, NB | Lori Williams |
| Sept 21 | Calgary, AB | Trina Radcliffe |
| Sept 25 | St. Albert, AB | |
| Sept 27 | Pownal, PE | Mike White |
| Sept 27 | Yellowknife, NT | Amy Doerksen |
| | | |