12 – FIRST-OVERALL NHL DRAFT PICKS
The World Under-17 Hockey Challenge is a coming-out party for young stars, the first chance to make an impression on the international scene, and often the first stop on the road to an NHL career. For a select few, it's the first step towards hearing their name called as the No. 1 pick in the NHL Entry Draft.
In the 17 NHL drafts since 1997 – when most of this year's competing players were born – 12 under-17 alumni have had that honour – Joe Thornton (1997), Vincent Lecavalier (1998), Ilya Kovalchuk (2001), Rick Nash (2002), Marc-André Fleury (2003), Alexander Ovechkin (2004), Erik Johnson (2006), Patrick Kane (2007), John Tavares (2009), Taylor Hall (2010), Ryan Nugent-Hopkins (2011) and Nathan MacKinnon (2013). Of that group, only Kovalchuk, Thornton and Hall pulled off the gold medal/first pick double; Kovalchuk won gold with Russia in 2000, while Thornton and Hall took home the top prize with Ontario in 1995 and 2008, respectively.
The only three top picks in the last 10 years not to make the list? Sidney Crosby (2005), who played with Canada's National Junior Team as a 16-year-old in 2004, Steven Stamkos (2008), who won gold with Ontario at the 2007 Canada Winter Games, and Nail Yakupov (2012), who was on Russia's preliminary roster for the 2010 tournament but didn't make the trip to Timmins, Ont.
---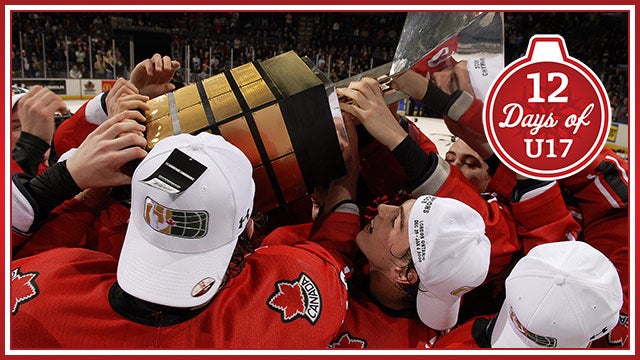 11 – CANADIAN GOLD MEDALS
As the era of five regional Canadian teams comes to a close at this year's World Under-17 Hockey Challenge, it's an appropriate time to look at the success teams wearing red and white have had – not only have they produced hundreds of NHL draft picks, but they've been among the tournament's winningest teams.
In the 19 full-field, 10-team tournaments since the inaugural Quebec Esso Cup in 1986 (two five-team events were held in 1998), Canadian teams have won 11 gold medals – Quebec in 1986, 1994 and 2006; Ontario in 1992, 1996, 1997, 2004, 2008, 2009 and 2011; and West in 2005.
And the opportunity has been there for plenty more; of the eight gold medals claimed by international teams, five were won with victories over Canadian teams in the gold medal game, and Pacific is the ultimate Canadian under-17 bridesmaid. Five times it has played its way into the final, and five times it has taken home the silver medal, tied with the U.S. for most runner-up finishes of any team.
---
10 – INTERNATIONAL ENTRIES
While the World Under-17 Hockey Challenge has long been an opportunity for Canadian hockey fans to see the future of their country's game, the tournament is also the first chance for many international stars to make their first impression in the birthplace of the game.
At the first U17 event in 1986, while the attention was on Canadian up-and-comers like Turgeon, Shanahan and Sakic, the Soviet Union came to Quebec with a roster that included Sergei Fedorov, Alexander Mogilny and Dmitri Khristich, eventually taking home silver. Two years later, the tournament produced the first-ever European U17 alumnus to be selected first at the NHL Entry Draft, Sweden's Mats Sundin.
In the 18 tournaments since 1986, 10 countries outside of Canada have stepped on the ice – the Czech Republic, Czechoslovakia, Finland, Germany, Norway, Russia, Slovakia, the Soviet Union, Sweden and the United States – with five taking home gold – the Soviet Union (1988), Finland (1990), the United States (1994, 1998, 2006, 2008), Russia (2000, 2012) and Sweden (2013).
---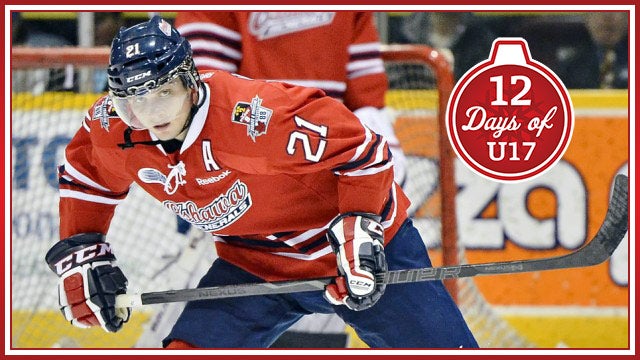 9 – NATIONAL JUNIOR TEAM CAPTAINS
While many of the players selected each year to Canada's National Junior Team are leaders, there can only be one who wears the 'C' as captain when the first puck drops on Boxing Day to kick off Canada's annual holiday tradition, the IIHF World Junior Championship.
In the last decade, including this year's tournament, nine World Under-17 Hockey Challenge alumni have served as Canada's captain – Michael Richards (2005), Karl Alzner (2007), Kris Letang (2008), Thomas Hickey (2009), Patrice Cormier (2010), Ryan Ellis (2011), Jaden Schwartz (2012), Ryan Nugent-Hopkins (2013) and Scott Laughton, who will lead Canada at the 2014 World Juniors in Malmö, Sweden.
In all, 17 U17 alumni have been Canadian captains, with Eric Desjardins (1989), Dave Chyzowski (1990), Steve Rice (1991), Todd Harvey (1995), Brad Larsen (1997), Manny Malhotra (2000), Scottie Upshall (2003) and Dan Paille (2004) joining the above list of names. In the first 16 years, Canada has won 14 IIHF World Junior Championship medals – eight gold, four silver and two bronze.
---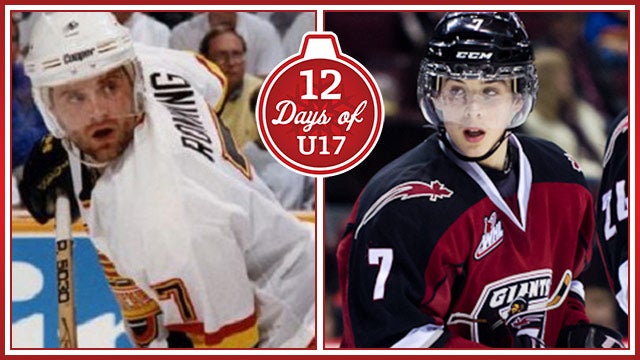 8 – SONS OF FORMER NHLERS
Like father, like son. Hockey history is filled with successful father-son duos, from the Hulls (Bobby and Brett) and Howes (Gordie and Mark) to more recent pairs like the Steens (Thomas and Alex) and Stastnys (Peter and Paul), and this year's World Under-17 Hockey Challenge has no shortage of famous offspring.
Canadian rosters in Cape Breton include eight players whose fathers played in the NHL – Matthew Boucher (Quebec – son of Philippe); Jakob Chychrun (Ontario, son of Jeff); Nick Chyzowski (Pacific – son of Dave); Jansen Harkins (Pacific – son of Todd); Jackson Keane (West – son of Mike); Brad Morrison (Pacific – son of Doug); Adam Musil (Pacific – son of Frank); and Ty Ronning (Pacific – son of Cliff).
The eight fathers combined for 1,851 points (630 goals, 1,221 assists) in 4,302 NHL games, and have their names on the Stanley Cup five times – three for Keane, and once each for Boucher and Chychrun. In addition, two are alumni of the World Under-17 Hockey Challenge: Chyzowski played for Pacific in 1988, while Boucher represented Quebec in 1990.
---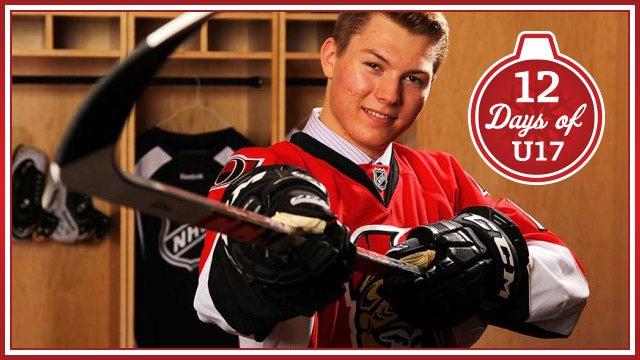 7 – PACIFIC DRAFT PICKS
The World Under-17 Hockey Challenge is where the future stars of the game step into the international spotlight. Since the first puck dropped in 1986, more than 1,300 NHL draft picks have played in the tournament, including 77 who heard their names called at the 2013 NHL Entry Draft in Newark, N.J.
In the first two rounds of the draft all five Canadian regions and four other countries were represented, none more than Pacific, which had seven players chosen among the first 61 selections – Josh Morrissey (Winnipeg, 13th); Curtis Lazar (Ottawa, 17th); Hunter Shinkaruk (Vancouver, 24th); Morgan Klimchuk (Calgary, 28th); Nic Petan (Winnipeg, 43rd); Tristan Jarry (Pittsburgh, 44th); and Eric Comrie (Winnipeg, 59th).
Overall, Pacific had 13 alumni from the 2011 and 2012 tournaments drafted in Newark, tied for the most of any Canadian region or international entry; Ontario and the United States also had a baker's dozen, followed by Quebec (12), Sweden (six), Russia (five), Finland (four), Atlantic (two), Slovakia (two), West (two) and the Czech Republic (one).
---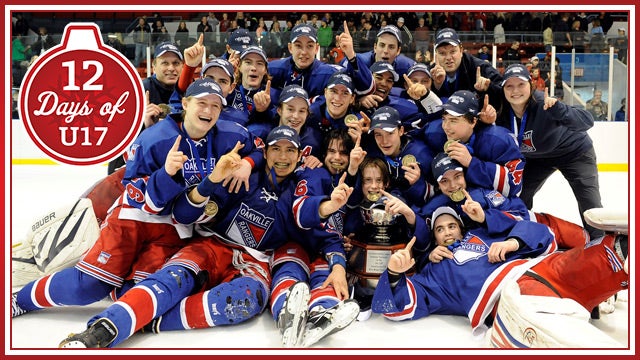 6 – OHL CUP FINALISTS
Every level of the game has its pinnacle. In the NHL, of course, it's the Stanley Cup. There's the Calder Cup (AHL), Kelly Cup (ECHL), Memorial Cup (Major Junior) and RBC Cup (Junior A). For Minor Midget teams in Ontario, the goal is to hoist the OHL Cup as the best team in the province.
Of the 22 players who will represent Ontario at the 2014 World Under-17 Hockey Challenge, six played in the 2013 OHL Cup championship game, a 5-1 win for the Oakville Rangers over the Toronto Marlboros. Jesse Barwell, Kyle Capobianco, Brett McKenzie and Matthew Spencer were members of the Rangers, while Mitchell Stephens and Dylan Strome suited up for the Marlboros.
In total, 15 Ontario players skated in the 20-team tournament; in addition to the six who played in the final, the list also included Lawson Crouse (Elgin-Middlesex), Sam Harding (York Simcoe), Graham Knott (York Simcoe), Travis Konecny (Elgin-Middlesex), Matthew Kreis (Halton), Adam Laishram (Whitby), Justin Lemcke (Whitby), Hayden McCool (Whitby) and Blake Speers (NOHA All-Stars).
---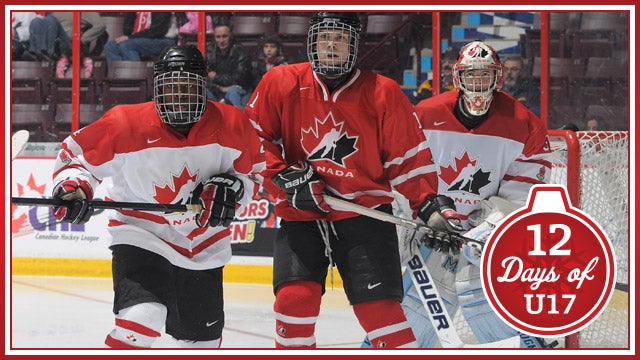 5 – CANADIAN TEAMS
It has been 28 years since the first puck dropped at the World Under-17 Hockey Challenge, and while the international entries have changed, one thing has remained constant – Canada has been represented by five regional teams.
The country's best up-and-coming 16-year-olds have suited up for Atlantic (New Brunswick, Newfoundland and Labrador, Nova Scotia, Prince Edward Island), Ontario, Pacific (Alberta, British Columbia, Yukon), Quebec and West (Manitoba, Northwest Territories, Nunavut, Saskatchewan), getting their first taste of international competition and first experience with Hockey Canada's Program of Excellence. But this year will be the end of the five-team era; starting next season, three national teams will wear the Maple Leaf at the tournament.
Since that first tournament 28 years ago, 21 gold medals have been awarded (including two in 1998), and Canadian teams have won 13 of them. In all, only three times has a U17 gold medal game not featured a Canadian team (Sweden vs. Soviet Union in 1988; Russia vs. United States in 2012; Sweden vs. Russia in 2013), and four times the final has been an all-Canadian match-up.
---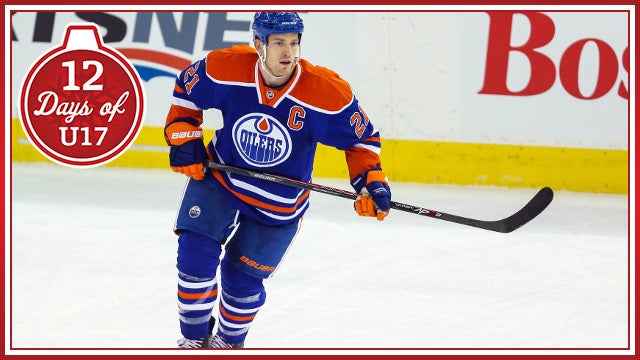 4 – CANADIAN NHL CAPTAINS
In hockey, there are few honours greater than getting to wear the 'C' as captain of your team, to be a leader both on and off the ice. To captain a Canadian NHL team is an even greater honour, following in the footsteps of players such as Trevor Linden, Wayne Gretzky, Lanny McDonald, Wendel Clark, Daniel Alfredsson and Jean Béliveau.
This year, only seven players have such an opportunity, and four of them are alumni of the World Under-17 Hockey Challenge – Andrew Ference (Edmonton – Pacific, 1995); Brian Gionta (Montreal – United States, 1995); Dion Phaneuf (Toronto – Pacific, 2002); and Henrik Sedin (Vancouver – Sweden, 1997).
In total, 10 of the 30 players who currently wear the 'C' with their NHL teams played in the World Under-17 Hockey Challenge; in addition to the four listed above, the list also includes Ryan Getzlaf (Anaheim – West, 2002); Alexander Ovechkin (Washington – Russia, 2002); Eric Staal (Carolina – Ontario, 2001); John Tavares (N.Y. Islanders – Ontario, 2006), Joe Thornton (San Jose – Ontario, 1995); and Jonathan Toews (Chicago – West, 2005).
---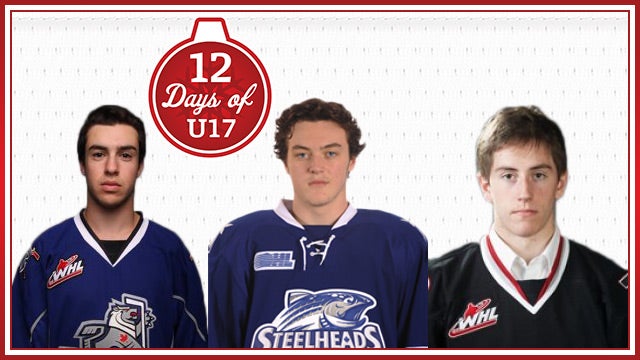 3 – CANADIAN PLAYERS BORN OUTSIDE NORTH AMERICA
The World Under-17 Hockey Challenge brings together the very best young players from hundreds of communities across Canada, with birthplaces ranging from Happy Valley, N.L., in the east to Richmond, B.C., in the west. But not every player that will be on the ice in Cape Breton was born within Canadian borders.
In fact, three players taking part in this year's World Under-17 Hockey Challenge weren't even born in North America: West forwards Matthew Campese (Feldkirch, Austria) and Meyer Nell (Pretoria, South Africa), and Ontario defenceman Sean Day (Leuven, Belgium) all moved from foreign countries at an early age, and began their minor hockey careers in North America.
The five Canadian rosters for the 2014 World Under-17 Hockey Challenge also include four U.S.-born players, all of whom have one thing in common: Quebec's Matthew Boucher (Torrance, Calif.), Ontario's Jakob Chychrun (Boca Raton, Fla.), Pacific's Jansen Harkins (Cleveland, Ohio) and West's Jackson Keane (Denver, Colo.) were all born to Canadian NHLers during or shortly after their father's playing days.
---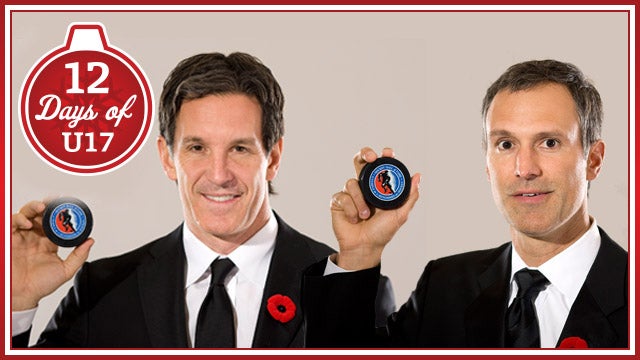 2 – HOCKEY HALL OF FAME INDUCTEES
Since the first puck dropped at the Quebec Esso Cup in 1986, the under-17 tournament has produced numerous world champions, Olympic gold medallists and Stanley Cup champions. But never before had a U17 alumnus been inducted into the Hockey Hall of Fame – until recently.
After the first three alumni – Bure, Sakic and Sundin – were inducted in 2012, the Hall's Class of 2013 included two players – Scott Niedermayer and Brendan Shanahan – who got their first taste of international competition at the under-17 level before embarking on careers that produced a combined 828 goals, 1,266 assists, 2,094 points, three Olympic gold medals and seven Stanley Cups. Both Niedermayer and Shanahan are among just eight Canadians in the IIHF Triple Gold Club.
Despite all the success both players had on the international stage in their careers, neither won a U17 medal. Shanahan came first, finishing fourth with Ontario at the inaugural tournament in 1986 after a 2-1 bronze medal game loss to Pacific, while Niedermayer also finished off the podium with Pacific in 1990.
---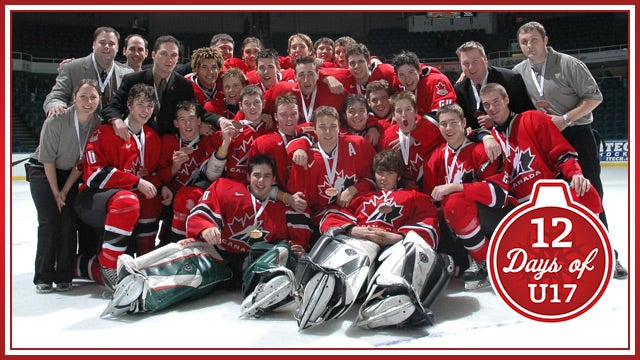 1 – TEAM ATLANTIC MEDAL

Eight gold medals for Ontario. Five trips to the final for Pacific. Nine medals for Quebec. Two gold for West. There is no shortage of Canadian success stories at the World Under-17 Hockey Challenge, and Team Atlantic's came at the 2005 tournament in Lethbridge, Alta.
Coming off a sixth-place finish one year earlier on home ice in St. John's, N.L., the easterners put together their best preliminary round ever in Lethbridge, posting a 3-1 round-robin record to take second place behind Team Pacific, although a semifinal loss to Jonathan Toews and Team West put an end to any gold medal aspirations.
A medal was still there for the taking, although the opposition for the bronze medal game was Ontario, the defending champion. Team Atlantic struck early, with Blake Gallagher and James Sheppard scoring inside the first eight minutes, but it was just the start of a back-and-forth game. With the score tied 4-4 and time running out, Ryan Hillier played the hero, scoring with 2:41 to go to give Team Atlantic a 5-4 victory and its first, and to date only, U17 medal.