PACIFIC STILL PERFECT AFTER PULLING AWAY FROM SLOVAKIA
by Garrick Kozier
PORTAGE LA PRAIRIE, Man. – A 7-3 win over Slovakia has Pacific one step closer at the 2011 World Under-17 Hockey Challenge.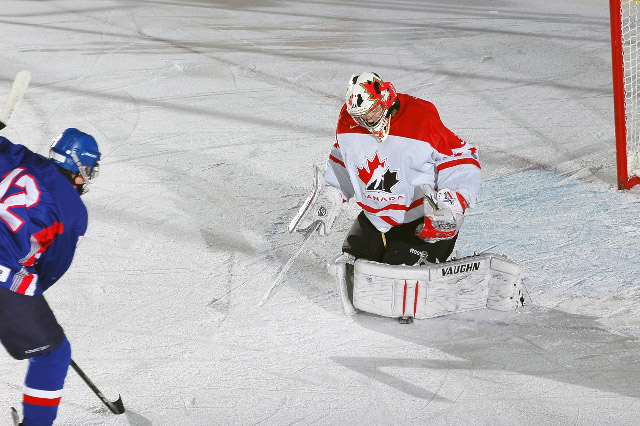 Jari Erricson had two goals as the Canadian side all but assured themselves of a spot in the semifinals with the win. A loss by West in Friday's late game in Winnipeg would officially clinch a final-four berth for Pacific.
Pacific went up 1-0 early in the first period, with Ryan Olsen scoring a beautiful backhand tally, sliding the puck past Slovak netminder Michal Dovina.
The Slovaks promptly responded with a goal from Jan Blasko, tying the affair up at 1-1.
Not to be outdone, Pacific came storming back with goals from Erricson and Levi Bews, who snapped a laser of a wrist shot over Dovina's glove.
Martin Remay capped off a wild opening 20 minutes with a goal for Slovakia, making it a 3-2 game after one period.
Just 1:34 into the second period, Andreas Strauch scored arguably the tournament's nicest goal, masterfully dekeing out Pacific goaltender Mackenzie Skapski to bring his team even once again.
But it was all Pacific after that, starting with a goal midway through the middle frame by Robert Trzonkowski to put his team ahead for good.
Mike Winther scored before the end of the second and Erricson and Troy Bourke added third-period goals as Pacific recorded the game's final four goals.
Mackenzie Skapski made 15 saves in the Pacific goal, while Dovina stopped 32 of 39 for the Slovaks, who are still in search of their first win.
Their next chance comes Saturday when they take on the Czech Republic in Portage la Prairie (3 p.m. CT), while Pacific will look to close out a perfect preliminary round in a marquee match-up against Ontario on Sunday (7:30 p.m. CT) at the PCU Centre.
Game Information/Renseignements sur le match
Game #/No. de match
09
Round/Ronde
Preliminary
Arena/Aréna
PCU Centre
Location/Lieu
Portage la Prairie, Man.
Date
Fri. Dec. 31, 2010
Time/Heure
03:00 PM CT
| Box Score/Compte | 1 | 2 | 3 | Final |
| --- | --- | --- | --- | --- |
| SVK | 2 | 1 | 0 | 3 |
| PAC | 3 | 2 | 2 | 7 |
Goals & Penalties/Buts et pénalités
First Period/Première période
Goals/Buts :
05:25 PAC 19 Ryan Olsen (6 Griffin Reinhart)
06:38 SVK 25 Jan Blasko (7 Michal Valjent, 5 Patrik Luza) PP
12:15 PAC 10 Levi Bews (19 Ryan Olsen, 5 Morgan Rielly ) PP
13:04 PAC 15 Jari Erricson (9 Matt Bellerive, 14 Shane Danyluk)
13:43 SVK 10 Martin Reway
Penalties/Pénaltés :
00:19 SVK 25 Jan Blasko (Tripping)
01:25 PAC 10 Levi Bews (Inter. on Goaltender)
06:09 PAC 21 Robert Trzonkowski (Roughing)
11:44 SVK 15 Mario Lunter (Hooking)
19:13 PAC 18 Brandon Magee (Roughing)
19:13 SVK 24 Richard Buri (Roughing)
19:13 SVK 24 Richard Buri (High Sticking)
Second Period/Deuxieme Période
Goals/Buts :
01:34 SVK 22 Andreas Strauch
05:51 PAC 21 Robert Trzonkowski (12 Chase Clayton, 16 Justin Hickman)
08:51 PAC 22 Mike Winther (6 Griffin Reinhart)
Penalties/Pénaltés :
11:33 PAC 18 Brandon Magee (High Sticking)
16:45 PAC 21 Robert Trzonkowski (Game Misconduct)
16:45 PAC 21 Robert Trzonkowski (Major - Check fr. Behind)
Third Period/Troisième Période
Goals/Buts :
06:53 PAC 11 Troy Bourke (2 Matt Dumba)
17:57 PAC 15 Jari Erricson (9 Matt Bellerive, 14 Shane Danyluk)
Penalties/Pénaltés :
00:26 SVK 25 Jan Blasko (Hooking)
06:17 PAC 10 Levi Bews (Hooking)
06:45 SVK 10 Martin Reway (Slashing)
14:21 SVK 14 Lubomir Dinda (Roughing)
Goaltenders/Gardien(ne)s de but
SVK
1 Michal Dovina
On 1/00:00
Off 3/20:00
PAC
30 Mackenzie Skapski
On 1/00:00
Off 3/20:00
| Shots on Goal/Tirs au but | 1 | 2 | 3 | Total |
| --- | --- | --- | --- | --- |
| SVK | 6 | 10 | 2 | 18 |
| PAC | 14 | 12 | 13 | 39 |
Players of the Game/Joueur(se) du match
SVK
6 Matus Hrasko
PAC
15 Jari Erricson
Officials/Officiels
Referee
Jason Pyke
Lines People
Bryden Hutlet, Garrett Rank