RUSSIA ENDS ATLANTIC HOPES WITH COMEBACK WIN
TIMMINS, Ont. – In the end, one great period just wasn't enough for Atlantic to keep its semifinal hopes alive at the 2010 World Under-17 Hockey Challenge.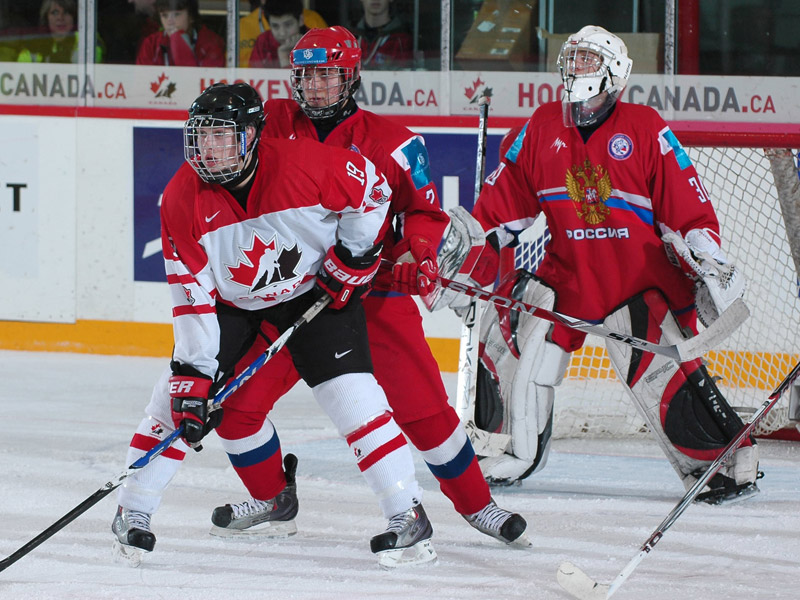 Brent Andrews scored twice and added an assist as the Canadian side outshot Russia 16-7 in the first period and led 3-1, but the Russians scored five unanswered goals over the final 40 minutes to score a 6-3 on Friday afternoon and officially eliminate Atlantic from gold medal contention.
Mikhail Grigorenko led the charge for Russia (2-1), racking up two goals and two assists in the all-important third period as the European side turned a one-goal deficit into a two-goal lead in the span of 6:51 in the final frame.
In addition to Grigorenko's pair, Russia got goals from Alexander Khokhlachev, Andrey Sigarev, Egor Omelyanenko and Albert Yarullin. The win sets up a crucial game against the Czech Republic on Saturday in Kirkland Lake, which could decide Group B's second semifinalist, depending on the outcome of Friday night's Czech-Pacific game in Cochrane.
Bryce Milson scored the other goal for Atlantic, which finished the preliminary round at 0-1-0-3 and will play in either the 9th-place game in Timmins or 7th-place game in Iroquois Falls on Sunday.
Game Information/Renseignements sur le match
Game #/No. de match
13

Round/Ronde
Preliminary
Arena/Aréna
McIntyre Arena

Location/Lieu
Timmins, Ont., Canada

Date
Fri. Jan. 01, 2010

Time/Heure
02:00 PM ET

Attendance/Assistance

938
Game Status/Statut de jeu

Final

| Box Score/Compte | 1 | 2 | 3 | Total/Totale |
| --- | --- | --- | --- | --- |
| ATL | 3 | 0 | 0 | 3 |
| RUS | 1 | 1 | 4 | 6 |
Goals & Penalties/Buts et pénalités
First Period/Première période
Goals/Buts :
02:54 RUS 8 Alexander Khokhlachev (9 Anton Zlobin)
05:26 ATL 9 Brent Andrews
13:19 ATL 16 Bryce Milson (19 Taylor Burke, 9 Brent Andrews) PP
18:48 ATL 9 Brent Andrews
Penalties/Pénaltés :
00:51 RUS 17 Maxim Shalunov (Cross Checking)
06:27 ATL 5 James Melindy (Tripping)
12:01 RUS 18 Anton Savelyev (Elbowing)
16:44 RUS 9 Anton Zlobin (High Sticking)
Second Period/Deuxieme Période
Goals/Buts :
12:08 RUS 19 Andrey Sigarev (8 Alexander Khokhlachev)
Penalties/Pénaltés :
04:45 RUS 11 Roman Konkov (High Sticking)
08:54 ATL 3 Tyrone Sock (Tripping)
09:05 RUS 18 Anton Savelyev (Holding)
14:10 RUS 7 Konstantin Vorshev (Elbowing)
Third Period/Troisième Période
Goals/Buts :
09:32 RUS 28 Egor Omelyanenko (21 Vladislav Vorobyev, 25 Mikhail Grigorenko)
12:52 RUS 23 Albert Yarullin (7 Konstantin Vorshev, 25 Mikhail Grigorenko) PP
16:42 RUS 25 Mikhail Grigorenko (23 Albert Yarullin, 17 Maxim Shalunov)
19:34 RUS 25 Mikhail Grigorenko ENS34
Penalties/Pénaltés :
02:21 RUS Team (Too Many Men)
04:21 ATL 23 Brandon Boutilier (Interference)
11:24 ATL 6 Stephen Woodworth (Holding)
17:55 ATL 3 Tyrone Sock (Tripping)
17:55 RUS 17 Maxim Shalunov (Unsportsmanlike Cnd.)
19:06 RUS 23 Albert Yarullin (Tripping)
19:34 RUS 25 Mikhail Grigorenko (10-Minute Misconduct)
Goaltenders/Gardien(ne)s de but
ATL


31 Jordan Kennedy



On 1/00:00
Off 3/20:00
RUS


30 Vladimir Kramar



On 1/00:00
Off 3/20:00
| Shots on Goal/Tirs au but | 1 | 2 | 3 | Total/Totale |
| --- | --- | --- | --- | --- |
| ATL | 16 | 9 | 9 | 34 |
| RUS | 7 | 9 | 13 | 29 |
Players of the Game/Joueur(se) du match
ATL

10 Brent Andrews

RUS

8 Alexander Khokhlachev

Officials/Officiels

Referee/Arbitre

Nicolas Leduc

Lines People/Juges de lignes

Matt Gervais, Andrew Connors