BIG THIRD PERIOD DOES IN WEST AS SWEDES SCORE WIN
TIMMINS, Ont. – The Swedes are sitting pretty, but West is in trouble at the 2010 World Under-17 Hockey Challenge.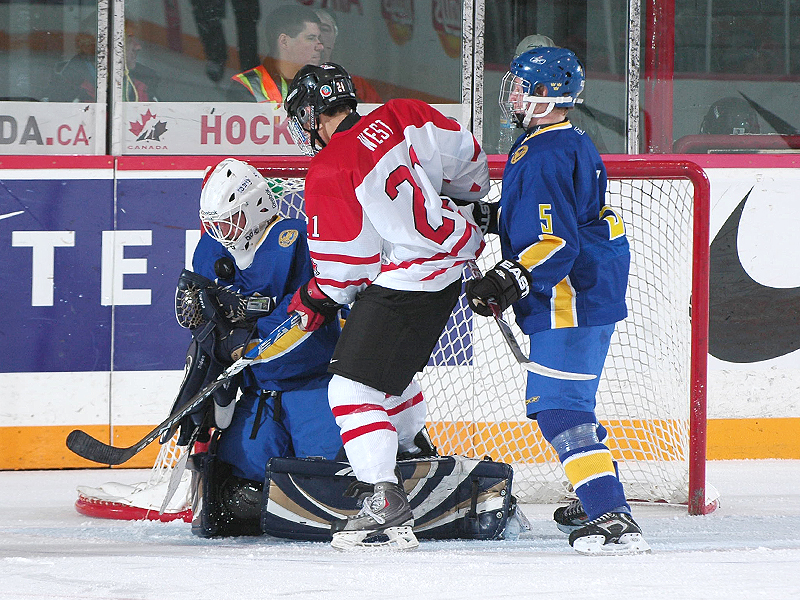 Mika Zibanejad scored once and added an assist in the decisive third period as Sweden kept its unblemished record intact with a 5-2 victory over West on Thursday night at McIntyre Arena, dropping the Canadian side to 0-2.
Zibanejad also added a goal in the second period for a three-point night, while Joakim Ryan, Victor Arvidsson and Karl Johansson also found the back of the net in the final 20 minutes. Ryan and Zibanejad scored less than two minutes apart early in the third to break open a 1-1 tie.
Todd Fiddler and Michael St. Croix had the goals for West, which needs wins in both of its final preliminary round games – including against two-time defending gold medalist Ontario on Saturday – if it hopes to run its semifinal-appearance streak to three years.
West pulled to within a goal at 3-2 on St. Croix's first goal of the tournament, but Arvidsson restored the two-goal lead just 46 seconds later and Johansson ended the drama and ensured Sweden would take its perfect record into its New Year's Day showdown with Ontario.
Game Information/Renseignements sur le match
Game #/No. de match
12

Round/Ronde
Preliminary
Arena/Aréna
McIntyre Arena

Location/Lieu
Timmins, Ont., Canada

Date
Thurs. Dec. 31, 2009

Time/Heure
07:00 PM ET

Attendance/Assistance

849

Game Status/Statut de jeu

Final

| Box Score/Compte | 1 | 2 | 3 | Total/Totale |
| --- | --- | --- | --- | --- |
| WST | 0 | 1 | 1 | 2 |
| SWE | 0 | 1 | 4 | 5 |
Goals & Penalties/Buts et pénalités
First Period/Première période
Goals/Buts :
None
Penalties/Pénaltés :
13:21 WST 5 Jesse Forsberg (Tripping)
15:47 WST 9 Todd Fiddler (High Sticking)
Second Period/Deuxieme Période
Goals/Buts :
06:44 WST 9 Todd Fiddler (15 Wilson Dumais, 11 J.C. Lipon) PP
07:11 SWE 21 Mika Zibanejad (13 Victor Arvidsson, 18 Victor Rask)
Penalties/Pénaltés :
04:53 SWE 6 Oscar Klefbom (Interference)
07:29 SWE 8 Jonathan Nielsen (Holding)
09:06 WST 11 J.C. Lipon (High Sticking)
13:24 SWE 20 Johan Porsberger (Roughing)
Third Period/Troisième Période
Goals/Buts :
03:10 SWE 7 Joakim Ryan (16 Joachim Nermark, 15 Emil Lundberg)
05:04 SWE 21 Mika Zibanejad (18 Victor Rask, 6 Oscar Klefbom) PP
15:55 WST 8 Michael St. Croix (12 Zachery Franko, 5 Jesse Forsberg)
17:41 SWE 13 Victor Arvidsson (21 Mika Zibanejad, 18 Victor Rask)
18:41 SWE 5 Karl Johansson EN
Penalties/Pénaltés :
03:47 WST 3 Ryan Murray (Boarding)
13:51 SWE 14 Jeremy Boyce-Rotevall (Interference)
19:36 SWE 8 Jonathan Nielsen (Interference)
20:00 SWE 21 Mika Zibanejad (Interference)
Goaltenders/Gardien(ne)s de but
WST


1 Zach Rakochy



On 1/00:00
Off 3/20:00
SWE


1 Matt McNeely



On 1/00:00
Off 3/20:00
| Shots on Goal/Tirs au but | 1 | 2 | 3 | Total/Totale |
| --- | --- | --- | --- | --- |
| WST | 8 | 10 | 10 | 28 |
| SWE | 9 | 9 | 13 | 31 |
Players of the Game/Joueur(se) du match
WST

3 Ryan Murray

SWE

30 Stefan Steen

Officials/Officiels

Referee/Arbitre

Nicolas Leduc

Lines People/Juges de lignes

Ryan Wilson, Benoit Martineau