CONNOR SCORES WINNER, U.S. WINS FIFTH GOLD MEDAL AT WJAC
YARMOUTH, N.S. – Kyle Connor broke a 1-1 tie with just 14 seconds left in the second period, giving the United States the lead for good as it won its fifth gold medal at the World Junior A Challenge with a 4-1 win over Russia in Sunday's final.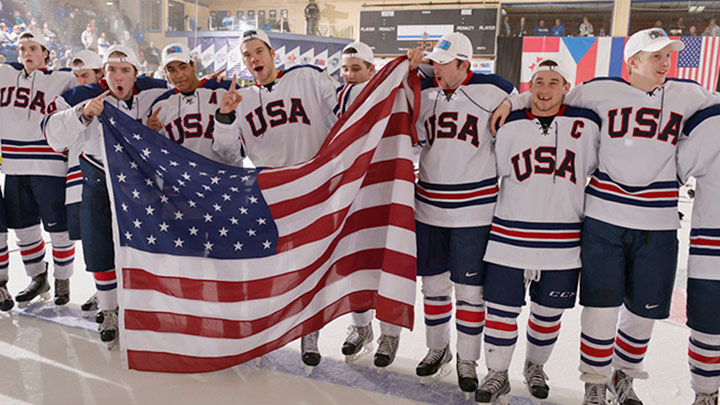 It's the second straight year the Americans have won gold, and Sunday's win was their ninth in a row at the tournament, breaking their own record. The U.S. has not lost a game since the 2011 semifinals.
Karson Kuhlman, Andrew Oglevie and C.J. Franklin scored the other goals for the Americans, who have won gold in five of the last six years. Nine different American skaters recorded at least a point.
Nick Schmaltz earned an assist on Connor's game-winner to give him a record 12 points in the tournament, surpassing the mark set by Kyle Turris in 2006, and equaled by Mike Connolly the following year. Schmaltz finished with eight assists, tying the tournament record set last year by U.S. defenceman Ian Brady.
Yegor Korchkov had the lone goal for the Russians, who were playing in the gold medal game for the first time in eight appearances at the tournament; the silver is their third medal, joining bronze in 2006 and 2009.
After a fast-paced start to the game, with just three whistles in the first 12 minutes, Kuhlman broke through for the Americans at the 17-minute mark, tipping a Clark Kuster shot past Russian netminder Maxim Tretiak.
It was the third time in four games Kuhlman opened the scoring for the U.S.
Russian pressure finally paid off late in the second period, when Korchkov snuck a wraparound through U.S. goaltender Cal Petersen to tie the game at 14:07.
But the tying goal seemed to awaken the U.S., who controlled the puck in the Russian zone for close to 90 seconds before Connor went post and in to give the Americans back their one-goal advantage in the dying seconds of the middle frame.
Russia could not muster much in the third period, directing only four shots at Petersen. Overall, the Americans held a 29-17 in shots on goal in what was a tight defensive battle for much of the game.
Oglevie gave the U.S. some breathing room at 8:28 of the third period, picking up a rebound in the slot and beating Tretiak, and Franklin put the icing on the cake with a beautiful goal, knocking down a pass and sliding it around the Russian netminder at 13:12.
Tretiak, who was named to the tournament all-star team, finished with 25 saves, while Petersen had a much easier workload, needing to make just 16 stops.
› Summary