HORODZIEJCZYK'S HEROICS HELP EAST TO PROSPECTS GAME WIN
YARMOUTH, N.S. – Joel Horodziejczyk (Sudbury, Ont./Soo, NOJHL) stopped 36 of the 38 shots he faced to help East to a 4-2 victory over West in the second and final CJHL Prospects Game on Saturday afternoon.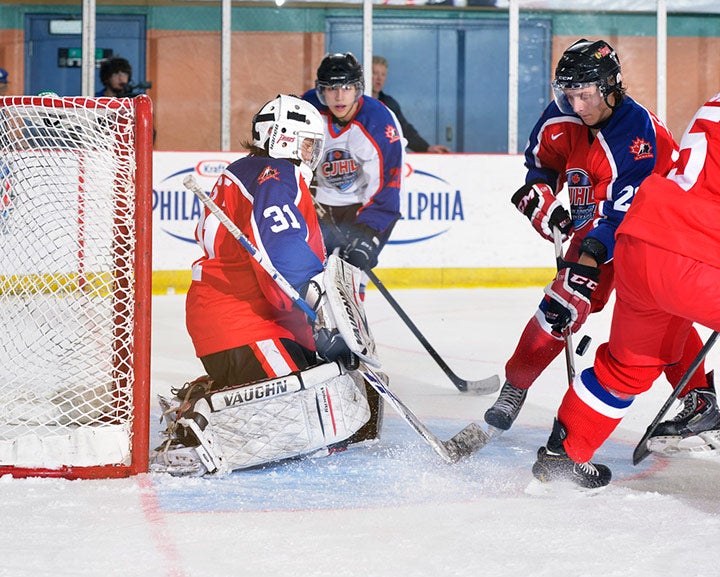 The win, coupled with a 4-2 victory in Friday's first game in Digby, N.S., gives East an 8-4 aggregate win in the two-game, total-goal series. It's the first time East has won the President's Cup since 2010.
Ryan Punkari (Lively, Ont./Sudbury, NOJHL), Dylan Sikura (Aurora, Ont./Aurora, OJHL), Matt Alvaro (Toronto, Ont./St. Michael's, OJHL) and Aaron Spivak (Thornhill, Ont./Toronto, OJHL) also scored for East, which was outshot for the second night in a row, 38-25.
Punkari, Sikura and Alvaro all scored their second goals in as many nights.
East spread around the scoring, with nine players recording points; no skater had more than one.
Justin Baudry (La Broquerie, Man./Steinbach, MJHL) and Nicklas Lindstrom (Mount Pearl, N.L./Yarmouth, MHL) scored the goals for West, which still leads the all-time series; it has won five President's Cups, to four for East.
Lindstrom and fellow Yarmouth Mariners blue-liner Billy Hartley (Dartmouth, N.S./Yarmouth, MHL) were called in to duty for West and East, respectively, after a pair of injuries in Friday night's game.
After a scoreless first period, East took control of the game, and series, with a pair of goals in the second; Punkari opened the scoring just 85 seconds into the middle frame, and Sikura doubled the lead at 12:48.
Alvaro gave East a 3-0 lead in the game, and 7-2 in the series, just 18 seconds after the puck dropped to start the third period, before Baudry and Lindstrom scored 5:51 apart to get West on the board.
Spivak capped the scoring into an empty net with three seconds left.
Jeff Smith (Maple Ridge, B.C./Powell River, BCHL) made 21 saves in the West goal, taking the loss.
› Summary