SCHMALTZ TIES WJAC RECORDS, LEADS AMERICANS BACK TO GOLD MEDAL GAME
YARMOUTH, N.S. – Nick Schmaltz went on a record-setting romp Friday night, scoring twice and adding three assists to help the United States reach another gold medal game at the World Junior A Challenge with a 7-4 semifinal win over Switzerland.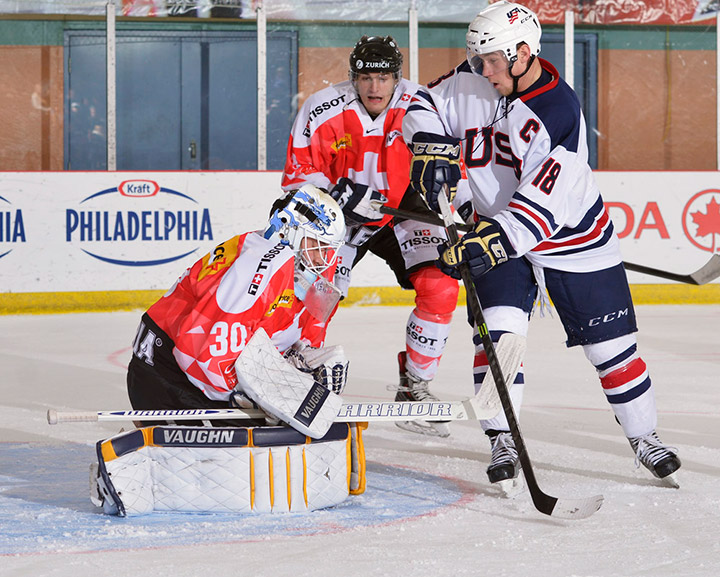 The U.S. is into the final for the fifth time in six years; it'll face Russia on Sunday afternoon (noon, AT, TSN2). The Americans have never lost in the gold medal game, winning it all in 2008, 2008, 2010 and 2012.
Schmaltz's performance tied the tournament record for points in a game. He joined Tyler McNeely (Canada West, 2006), Barry Almeida (United States, 2007), Siarhei Drozd (Belarus, 2008) and Connor Jones (Canada West, 2009) as players who have accomplished the feat.
The five points also gives Schmaltz 11 (four goals, seven assists) in just three games, tying the single-tournament scoring record held by Kyle Turris (Canada West, 2006) and Mike Connolly (Canada West, 2007).
For good measure, he is just a single assist behind the all-time record for most in a tournament, set last year by American defenceman Ian Brady.
Connor Hurley also had a stand-out game for the Americans, finishing with two goals and two assists, while C.J. Franklin, Matthew Weis and Dennis Kravchenko also put their names on the scoresheet.
Franklin, Kravchenko and Zeb Knutson, who had two assists, all finished with multiple points in the win.
Kevin Dayer, Marc Marchon, Thomas Studer and Michael Loosli scored for the Swiss, who fell to the U.S. in the semifinals for the second year in a row, by identical 7-4 scores.
After Franklin opened the scoring just shy of the 12-minute mark of the first period, the Swiss struck back with goals from Dayer and Marchon, taking a short-lived lead at 2-1 four minutes into the second period.
The middle frame was all U.S. after that; Schmaltz tied the game at 6:55, and set up Weis and Hurley before the end of the period to send the Americans to the dressing room up 4-2 after 40 minutes.
Kravchenko extended the lead in the first minute of the third period before Schmaltz added his fourth and record-tying fifth points on U.S. power plays, sandwiched around a Swiss goal off the stick of Studer.
Loosli scored a consolation goal for the Swiss with six-and-a-half minutes left, rounding out the scoring.
Maxim Mauerhofer was busy in the Swiss goal, finishing with 30 saves, while American netminder Cal Petersen needed to make just 15 stops to record the win.
The Swiss will play in the bronze medal game Saturday night for the third time in as many trips to the tournament; they face off with Canada West at 8 p.m. AT in the third-place game.
---
» Summary