RUSSIANS SCORE FIVE UNANSWERED TO BEAT WEST, ADVANCE TO GOLD MEDAL GAME
YARMOUTH, N.S. – Semyon Afonasyevski scored a pair of goals to lead the offence and help Russia to a 5-2 semifinal win over Canada West on Friday and its first-ever appearance in the gold medal game at the World Junior A Challenge.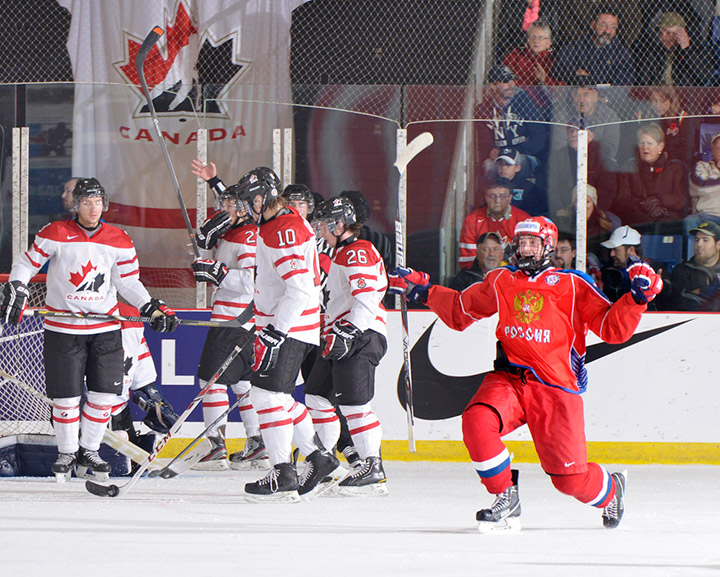 The Russians had been 0-3 in semifinal appearances before Friday; they will face the winner of the late semifinal between Switzerland and the United States in Sunday's gold medal game (noon AT).
Daniil Vovchenko, Kirill Pilipenko and Ivan Igumnov had the other goals for Russia, which trailed 2-0 just past the 12-minute mark of the first period before scoring the game's final five goals. Vovchenko and Pilipenko added assists to their goals, while Andrei Svetlakov had two helpers.
In all, 10 Russians had at least one point.
Nicholas Jones (Edmonton, Alta./Sherwood Park, AJHL) and Andrew Taverner (Edmonton, Alta./Sherwood Park, AJHL) scored for Canada West, which missed out on the gold medal game for just the second time in tournament history.
With Canada East's quarter-final loss on Thursday, this year marks the first time the gold medal game at the World Junior A Challenge will not feature a Canadian team.
The westerners came out with the momentum, opening the scoring off the stick of Jones at 11:13, and doubling the lead when Taverner found the back of the net just 64 seconds later.
But those would be the lone pucks to beat Russian netminder Maxim Tretiak, who finished with 25 saves.
The Russian comeback started just past the 14-minute mark of the second period; Afonasyevski finally beat Canada West netminder Jesse Jenks (Crofton, B.C./Prince George, BCHL), and Vovchenko tied it 42 seconds later.
Russia would take its first lead before the horn sounded to end the second period, with Pilipenko finishing off a gorgeous four-way passing play on the power play to send the Europeans to the dressing room with a one-goal advantage.
Canada West pressed for the tying goal in the third period, but Afonasyevski gave the Russians some breathing room at 13:17, finding the five-hole on Jenks for his second of the game.
Igumnov put the final nail in the Canadian coffin, going high over Jenks' glove at 16:44 of the final frame.
Canada West will play in the bronze medal game on Saturday night (8 p.m. AT); it will face the loser of the U.S.-Switzerland semifinal.