KUZMENKO GETS WINNER, RUSSIA MOVES ON TO SEMIFINALS AT WJAC
YARMOUTH, N.S. – Andrei Kuzmenko broke a 1-1 tie with 9:23 to go in the third period, sending Russia to the semifinals at the 2013 World Junior A Challenge after a 3-1 win over the Czech Republic in Thursday's first quarter-final.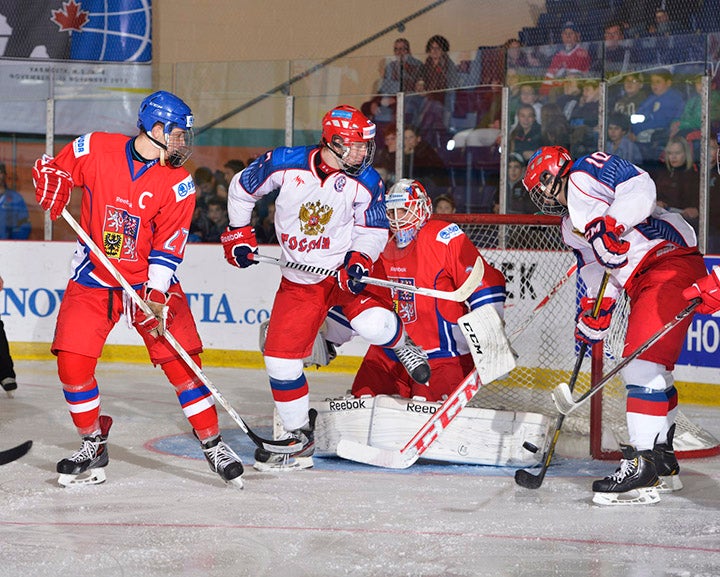 The Russians will face Canada West on Friday (time TBD), still looking for their first-ever appearance in the gold medal game; Russia is 0-3 all-time in semifinals at the World Junior A Challenge.
Kirill Pilipenko, on a first-period power play, and Vladislav Kamenev, into an empty net in the final 10 seconds, had the other goals for Russia, which qualified for the final four for the first time since winning bronze in 2009.
Maxim Tretiak, the grandson of legendary Soviet netminder Vladislav Tretiak, was spectacular in the Russian goal, finishing with 41 saves for his second win in as many starts.
Jakub Zboril scored the lone goal for the Czech Republic, which will play in the fifth-place game for the third time in as many appearances at the tournament. The Czechs were sixth in 2011 in Langley, B.C., and last year in Yarmouth.
Zboril got the scoring started just past the 16-minute mark of the first period on a weird one; his wrist shot from just inside centre ice eluded Tretiak, who had been rock-solid until that point.
But Pilipenko banged in a centering pass from Vladislav Kamenev just 1:44 later and the Russians went to the dressing room in a 1-1 tie despite being outshot 18-9 in the opening 20 minutes.
Tretiak and Czech counterpart Karel Vejmelka owned the second period, combining for 22 saves, but Russia broke through midway through the third on Kuzmenko's unassisted effort, giving the Russians their first lead.
Kamenev got his second point of the game with 7.2 seconds left, capping the scoring.
The Czechs will travel to Liverpool, N.S., for the fifth-place game on Saturday afternoon (4 p.m. AT), taking on the loser of Thursday's second quarter-final between Canada East and Switzerland.
- - -
› Summary