EISERMAN SCORES WINNER, U.S. GETS BYE TO SEMIFINALS AT WJAC
YARMOUTH, N.S. – Shane Eiserman broke a 2-2 tie midway through the third period, leading the United States to a 4-2 victory over Canada East in the preliminary round finale Wednesday night at the 2013 World Junior A Challenge.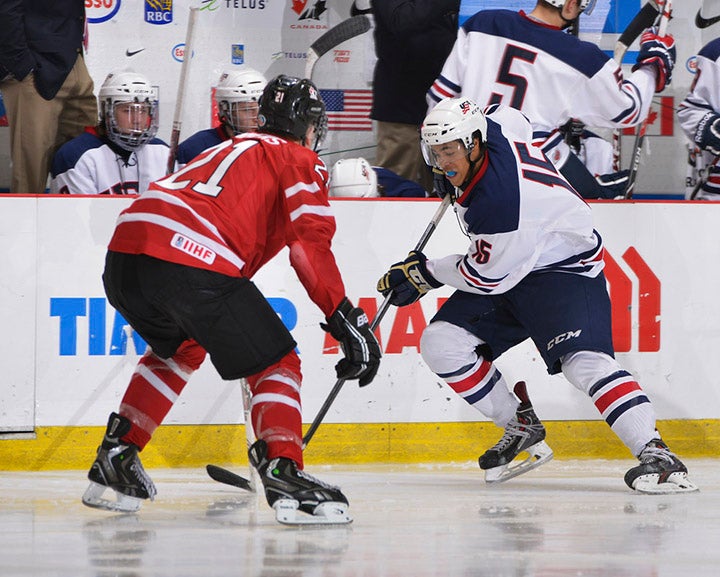 The win sends the U.S. directly to Friday's semifinals (time TBD). It will face the winner of the Thursday quarter-final (8 p.m. AT) between Switzerland and Canada East.
Karson Kuhlman had a pair of goals, and Seamus Malone capped the scoring into the empty net in the dying seconds for the Americans, who won their group for the fourth time in seven appearances at the tournament; they won gold two of three previous occasions, including last year in Yarmouth.
Mike Soucier (Caledon, Ont./Wellington, OJHL) and Morgan Messenger (Barrington, N.S./Yarmouth, MHL) scored the goals for Canada East, which erased a 2-0 deficit and drew even with 11 minutes left before the Americans pulled away for good.
For the second game in a row it was Kuhlman who started the scoring for the Americans, burying the rebound of a Nick Schmaltz shot at the 14:34 mark of the first period.
Kuhlman struck again just 80 seconds into the second period, doubling the American lead, before Soucier snapped a shot short-side past U.S. netminder Chris Birdsall to make it a 2-1 game after 40 minutes.
The capacity crowd at the Mariners Centre erupted 9:10 into the third period when Messenger, who plays for the hometown Mariners, scooped up a loose puck in the slot and beat Birdsall to tie the game.
But before Canadian fans had a chance to take their seats the Americans were back in the lead; Eiserman's unassisted effort, his second goal in as many games, was the eventual game-winner, coming just 57 seconds after Messenger's goal.
Birdsall got the win for the U.S., making 24 saves, while Canada East netminder Jordan Piccolino (Pierrefonds, Que./Cornwall, CCHL) made 24 stops of his own in a losing cause.
- - -
› Summary