AMERICANS SCORE FIVE IN SECOND PERIOD, ROLL TO WIN OVER RUSSIANS
YARMOUTH, N.S. – Nick Schmaltz scored twice and added two assists as the United States opened defense of its World Junior A Challenge gold medal with a convincing 8-3 win over Russia on Tuesday night.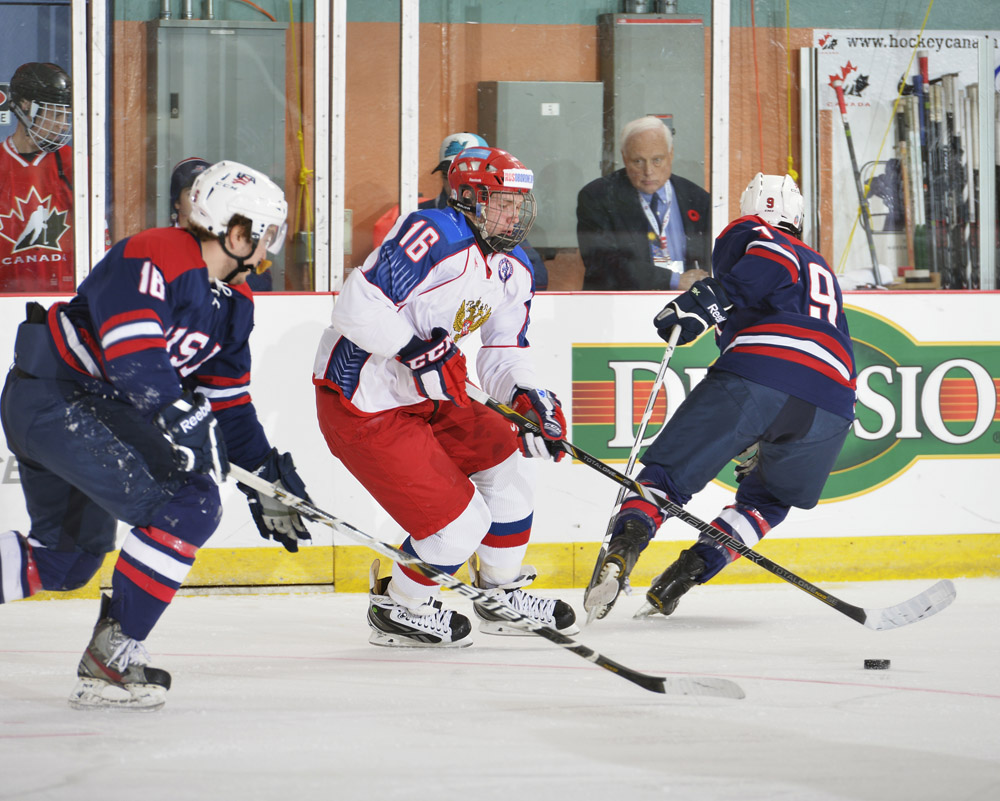 It's the second year in a row the Americans have started the tournament with a lopsided win; they routed Canada East 9-1 in the 2012 tournament opener en route to their fourth gold medal in five years.
Zeb Knutson scored a pair of goals for the Americans, while Connor Hurley, Kyle Connor, Shane Eiserman and Karson Kuhlman added singles. Hurley had three assists to join Schmaltz with four-point nights; Connor had a three-point effort.
The U.S. scored five times on the power play, including three in the second period, when they scored five times to turn a tight 1-0 game after one period into a 6-1 runaway through 40 minutes.
Kuhlman got the scoring started just 61 seconds after the puck dropped, deflecting a Jordan Gross point shot past Russian netminder Sergei Korobov; it was the lone goal of the opening 20 minutes despite the U.S. holding a 10-3 advantage in shots on goal.
Knutson made it 2-0 only 30 seconds into the second period with another tip-in, before Schmaltz dangled around a Russian defender and deftly found the Korobov's five-hole, pushing the lead to 3-0 and ending the Russian goaltender's night.
Korobov stopped 15 of 18 shots before being replaced by Maxim Tretiak, who recorded the win in Russia's tournament-opening 6-2 win over Canada East on Monday.
After Hurley and Schmaltz made it 5-0 just past the game's midway mark, the Americans had more goals (five) than the Russians had shots (four); shots on goal were 25-4 in favour of the U.S. at that point.
Kirill Pilipenko finally got Russia on the board at 17:23 of the second period, but Knutson's second of the middle frame at 19:04 restored the five-goal advantage heading to the second intermission.
The U.S. is the eighth team in World Junior A Challenge history to score at least five goals in a single period; it was also the last to do it, scoring five in the first period of last year's semifinal win over Switzerland.
Connor and Eiserman added goals for the Americans in the third period, while Eduard Nasybullin and Daniil Vovchenko replied for Russia.
The U.S. outshot Russia 39-25 overall.
The Americans will finish out the preliminary round Wednesday night (8 p.m. AT) against Canada East, while Russia will wait for the result of that game to find out where they will finish in Group A.
- - -
› Summary