GILLIES SCORES WINNER, WEST BEATS SWISS IN ONE-GOAL THRILLER
YARMOUTH, N.S. – Alex Gillies (Vernon, B.C./Salmon Arm, BCHL) broke a 3-3 tie early in the third period to lead Canada West to a 4-3 win over Switzerland in the opening game of the 2013 World Junior A Challenge on Monday afternoon.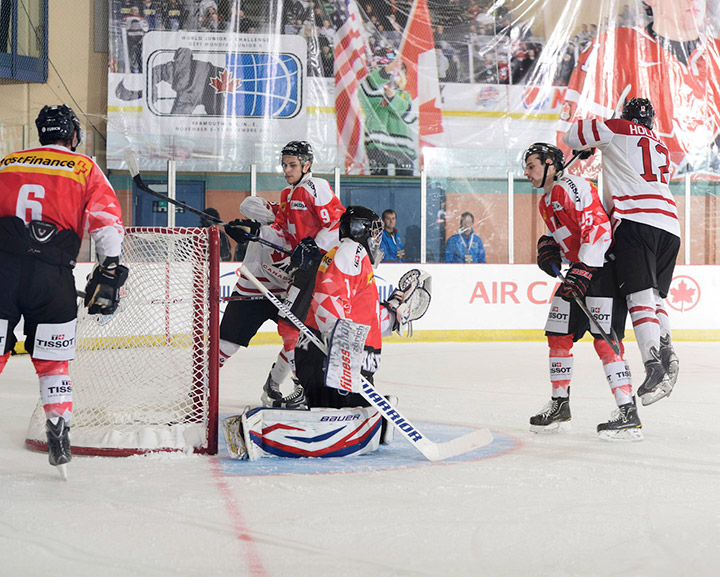 It's the first time Canada West has beaten the Swiss; the Europeans had won the two previous meetings, both at the 2010 tournament, in the preliminary round and bronze medal game.
Gillies drove to the net and banged in the rebound of a Trace Elson (St. Albert, Alta./Whitecourt, AJHL) shot just 67 seconds after the puck dropped to start the final period, making the difference in a tight game.
Dylan Hollman (Red Deer, Alta./Spruce Grove, AJHL) scored twice and added an assist for Canada West; he and linemates Cameron Hughes (Edmonton, Alta./Spruce Grove, AJHL) and Nicholas Jones (Edmonton, Alta./Sherwood Park, AJHL) owned the first period, combining for six points, all on the power play.
Patrick Incir, Michael Hügli and Matteo Romanenghi had the goals for the Swiss, who led 1-0 and 2-1 within the first 16 minutes, but ended up with just their second loss in five all-time preliminary round games.
Incir opened the scoring just past the 11-minute mark of the first period, cutting left at the blue-line and snapping a shot to the far side past Canada West goaltender Jesse Jenks (Crofton, B.C./Prince George, BCHL), but Hollman tied it less than two minutes later with a power play goal.
Hügli restored the Swiss lead at 15:31, but the Canadians went back to work with the man advantage, getting power play goals from Jones and Hollman just 1:17 apart late in the period to take a lead to the intermission and cap an entertaining opening 20 minutes.
After five goals in less than eight minutes in the first period, the two teams combined for just one in the second, with Romanenghi tipping in a Tim Grossniklaus point shot five minutes into the middle frame, tying the game for the Swiss and setting up Gillies' winner.
Jenks got the win with a 31-save performance in the Canada West goal, while his Swiss counterpart, Nicola Aeberhard, made 38 stops in a losing cause.
Canada West will enjoy an off day Tuesday before facing the Czech Republic in the Group B finale Wednesday (4 p.m. AT), while the Swiss will take on the Czechs on Tuesday afternoon (4 p.m. AT).
› Summary