RUSSIANS SCORE FINAL SIX GOALS, ROUT CANADA EAST AT WJAC
YARMOUTH, N.S. – Kirill Pilipenko scored once and added two assists, pacing the Russian offence in a convincing 6-2 win over Canada East in the Group A opener at the 2013 World Junior A Challenge on Monday night.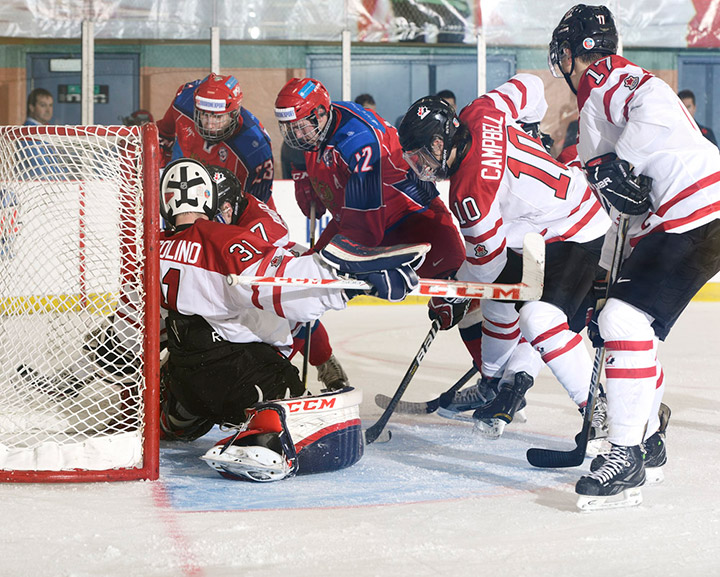 Surprisingly, the game was just the second preliminary round meeting ever between the teams; Russia won the other match-up as well, scoring a 3-2 shootout victory at the 2011 tournament in Langley, B.C.
Vladislav Kamenev added three assists for the Russians, who got goals from six different players, points from 10, and at least two points from six. They scored the game's last six goals after spotting Canada East an early 2-0 lead.
Pilipenko, Ilya Dervuk, Yegor Korchkov, Artur Boltanov, Daniil Vovchenko and Andrei Kuzmenko scored for Russia, which connected three times on the power play and outshot the Canadians 40-30.
Mike Panowyk (Whitby, Ont./Whitby, OJHL) and Charles Guèvremont (Châteauguay, Que./Saint-Jérôme, LHJAAAQ) had the goals for Canada East, which lost its third game in a row at the tournament, dating back to the semifinals and bronze medal game in 2012.
The Canadians controlled the game early, getting goals from Panowyk and Guèvremont before the 12-minute mark and igniting the pro-Canadian sell-out crowd at the Mariners Centre.
But Dervuk's point shot late in the period eluded Canada East netminder Jordan Piccolino (Pierrefonds, Que./Cornwall, CCHL), and the momentum began to swing towards the Russians.
Pilipenko tied it with a rocket one-timer on the power play 7:40 into the second period, and goals 65 seconds apart from Korchkov and Boltanov gave Russia the lead for good before the second intermission.
Vovchenko and Kuzmenko added goals on the man advantage in the third to provide the final margin of victory, handing the Canadians their second straight one-sided loss to open the tournament; they suffered a 9-1 defeat at the hands of the United States last year in Yarmouth.
Russian goaltender Maxim Tretiak, the grandson of legendary Soviet netminder Vladislav Tretiak, made 28 saves to record the win, while Piccolino finished with 34 stops.
The Russians will look to wrap up first in Group A and book a spot in the semifinals when they face the United States on Tuesday night (8 p.m. AT), while Canada East will face the U.S. on Wednesday in the preliminary round finale (8 p.m. AT).
- - -
› Summary