CHIEFS BLANK JR. 67'S BECOME FOURTH TEAM TO DEFEND TELUS CUP
SAULT STE. MARIE, Ont. – Five different players scored goals and Matt Zentner made 27 saves for the shutout, helping the Red Deer Chiefs blank the Ottawa Jr. 67's 5-0 and win the TELUS Cup on Sunday night.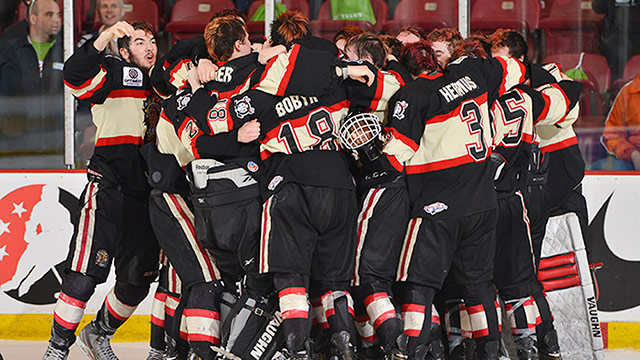 It's the second year in a row Red Deer has won Canada's National Midget Championship, making it just the fourth team ever to win back-to-back gold medals; Ste-Foy (1978 and 1979), Prince Albert (2006 and 2007) and Notre Dame (2009 and 2010) also repeated.
Chase Thudium, Trey Degraaf, Ryker Leer, Chris Gerrie and Ian McLellan scored goals for the Chiefs, who posted the largest margin of victory in a gold medal game since Magog beat Montréal-Bourassa 6-0 in the 2000 final.
Colton Bobyk was the only Red Deer skater to record more than one point, picking up a pair of assists.
Despite a combined 29 shots in the first period, there was only one goal – Thudium found a loose puck at the side of the Ottawa net and stuffed it past Simon Hofley for a power play goal late in the opening frame.
Degraaf doubled the lead with an unassisted effort early in the second period, and Leer made it 3-0 67 seconds later, going just under the crossbar over the blocker of Hofley.
Gerrie put the Chiefs firmly in control at 14:48 of the second period, capping off a dominant 20 minutes that saw Red Deer outshoot the Jr. 67's 24-7.
The four-goal spread after two periods surely brought back memories of last year's gold medal game for some. Trailing 5-1 entering the third period, the Chiefs scored four times on the power play in the final frame to tie the game before Nick Glackin won the national title with a double-overtime goal.
This year, however, there would be no comeback; McLellan capped the scoring with 6:21 left and the countdown was on for Red Deer.
Zentner was busiest in the first period, making 12 of his 27 stops. His shutout is just the third ever in the gold medal game at the national championship, joining Magog in 2000 and Notre Dame in 2009.
Hofley was superb in the Jr. 67's goal, finishing with 50 saves, his second game of 50+ saves in the tournament.
Red Deer outshot Ottawa 55-27.