CONTACTS ERASE TWO-GOAL DEFICITS, EARN DRAW WITH CHIEFS
SAULT STE. MARIE, Ont. – Kolten Olynek and Rodney Southam scored goals in the final 6:15 as the Saskatoon Contacts rallied for a 5-5 tie with the Red Deer Chiefs at the 2013 TELUS Cup on Wednesday afternoon.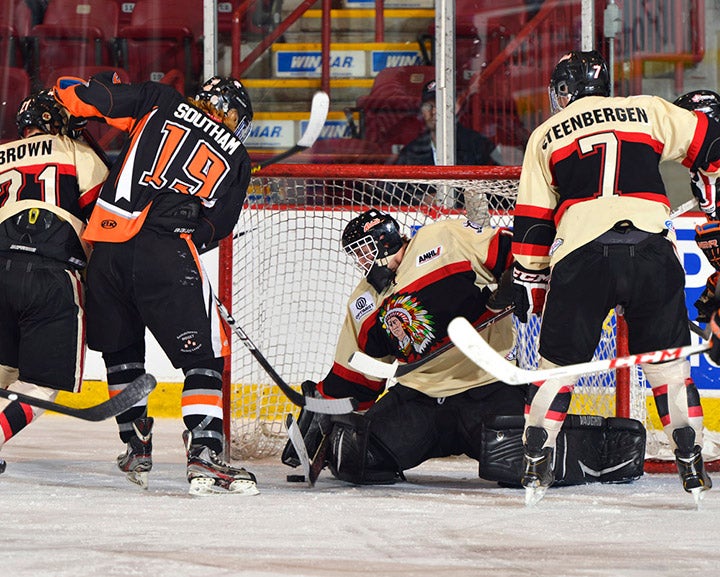 It's the second consecutive year the Contacts and Chiefs have played to a tie at the National Midget Championship. The teams skated to a 2-2 draw in the tournament opener last year in Leduc, Alta.
Olynek finished with two goals and two assists and Vukie Mpofu had the other goals for Saskatoon (1-1-1), which trailed 2-0 early and 5-3 late before earning the single point. Mpofu and Southam both added assists to their goals.
Jacob Schofield scored twice to lead Red Deer (1-1-1), which got singles from Ian McLellan, Trey Degraaf and Chris Gerrie. Jody Sick and Chase Thudium chipped in with two assists apiece for the Chiefs, who beat Saskatoon 2-0 in the semifinals last year en route to the national title.
The Chiefs looked to be in control early, getting goals from Schofield and McLellan for a quick two-goal lead just 10:29 in. But Olynek and Mpofu pulled Saskatoon even before the first 20 minutes were done, and Mpofu's goal 29 seconds into the second period gave the Contacts their first lead.
Undaunted, Red Deer came back with three straight goals of their own, from Degraaf, Schofield and Gerrie, in a span of 3:41 to retake the lead heading into the second intermission.
The defending champions looked to be on their way to their second win of the week before Olynek tipped in a Terrell Draude shot on the power play at 13:45 of the third period and Southam buried a rebound over a sprawling Matt Zentner 1:48 later to tie the game.
Jayden Sittler got the start for the Chiefs but was replaced by Zentner at the start of the second period, while Rylan Parenteau went the distance for the Contacts, finishing with 31 saves. Sittler and Zentner combined for 23 stops.
Both teams look to get back in the win column Thursday – Red Deer will face the Valley Wildcats in the early game (noon ET), while Saskatoon meets the host Sault Ste. Marie North Stars in the night cap (7:30 p.m. ET).