GAUTHIER'S FOUR POINTS HELP ROUSSEAU ROYAL TO FIRST WIN
SAULT STE. MARIE, Ont. – Julien Gauthier scored once and added three assists to lead the offence as the Rousseau Royal de Laval-Montréal routed the Saskatoon Contacts 7-0 for its first win of the 2013 TELUS Cup on Tuesday.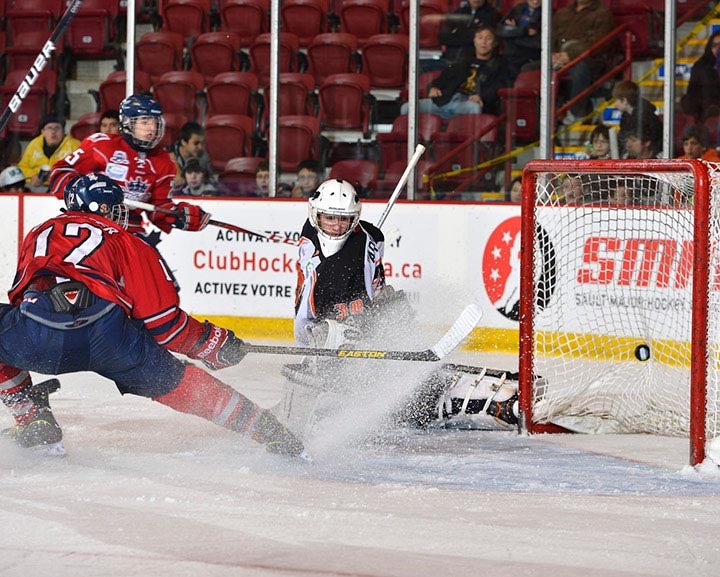 The win ensured the Rousseau Royal would not be the first Quebec team to start the National Midget Championship at 0-2 since Laval Laurentides-Lanaudiere went winless in the preliminary round in 1988.
Kevin Domingue and Joel Giguere added two goals apiece for Laval-Montreal, while Massimo Carozza and Gaël-Mukéba Lubwele also scored. Carozza finished with a goal and two assists, and Sacha Guay had two helpers.
In total, 11 players recorded at least a point in the victory.
The Contacts' loss was the worst by a West Region team since Winnipeg was handed a 12-5 defeat by the Vancouver NW Giants at the 2011 TELUS Cup. The good news for Saskatoon? The Thrashers went on to win the gold medal.
Holding a 2-0 lead after 20 minutes despite being outshot 12-11, Laval-Montréal exploded in the second period, scoring five goals on nine shots in the frame, the last four coming in a span of 3:29 to make it a 7-0 game through two.
One day after getting pulled in the Rousseau Royal's tournament-opening loss to Red Deer, Alexandre Duckett made 20 saves for the shutout, while Rylan Parenteau allowed five goals in almost 36 minutes of work for Saskatoon before giving way to Brock Hamm late in the second period.
Laval-Montréal goes for two in a row when it takes on the Valley Wildcats in Wednesday's early game (noon ET), while the Contacts will try and bounce back against Red Deer in a rematch of last year's semifinal (4 p.m. ET).