MERCIER SCORES TWICE, JR. 67'S GET INTO WIN COLUMN
SAULT STE. MARIE, Ont. – Medric Mercier scored a pair of power play goals to get the offence going and lead the Ottawa Jr. 67's to their first win at the 2013 TELUS Cup, 4-2 over the Valley Wildcats on Tuesday afternoon.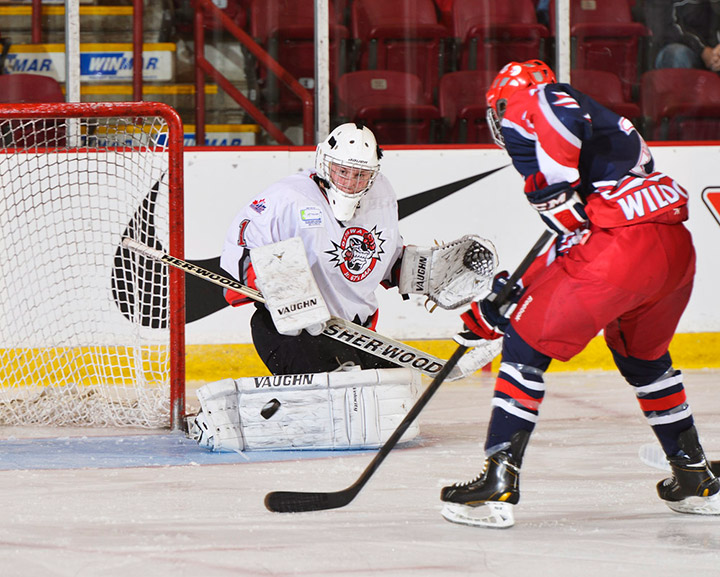 The victory ends a seven-game losing streak for Central Region champions, dating back to the London Jr. Knights' semifinal win over Lac St-Louis at the 2011 TELUS Cup.
Peter Sigouin and Matthew Hudson had the other goals for Ottawa (1-1), which posted the first victory by a team from the nation's capital since the tournament went to a six-team format in 1984, and the first overall since Ottawa West beat Saint John 6-4 in 1983.
John Deacon and Brett Tidman scored for Valley (0-2), which finished on the wrong end of a 32-24 shot clock.
Mercier scored 14 seconds into the Jr. 67's first power play opportunity midway through the first period, and connected 52 seconds into another man advantage six minutes into the second to put Ottawa ahead.
Sigouin's goal three minutes later stood up as the game-winner after Deacon and Tidman scored third-period goals to pull the Wildcats within one with 3:12 to go.
Hudson gave the Jr. 67's some breathing room with 1:46 left, rounding out the scoring.
Simon Hofley got the win for Ottawa, making 21 saves. Michael Cullen replaced Hofley for a minute late in the third, making one stop. Michael Pettet went the distance for the Wildcats, turning aside 28 shots.
The Jr. 67's will look to make it two in a row Wednesday night against the host Sault Ste. Marie North Stars (7:30 p.m. ET), while Valley will try again for win No. 1 when it faces the Rousseau Royal de Laval-Montréal in the day's early game (noon ET).