WOLVES WIN 2008 TELUS CUP WITH THIRD-PERIOD COMEBACK
For the first time in the 30-year history of the event, the Central Region has won the National Midget Championship.
Mathieu Lecours, Justin Lockeyer and Denis Restoule scored in the first five minutes of the third period as the Sudbury Nickel Capital Wolves claimed the 2008 TELUS Cup with a 6-4 victory over the Winnipeg Thrashers on Sunday at the Nick Smith Centre in Arnprior.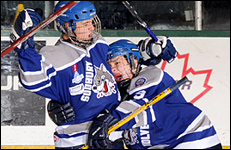 With the win, the Wolves ended the West Region's dominance at the National Midget Championship – teams from Manitoba and Saskatchewan had won the last four gold medals, and had not lost in 32 games prior to Sunday's gold medal game.
Sudbury jumped out to a quick lead on the Thrashers, as Steven Taylor and Deven Stillar scored 1:37 apart before the game was seven minutes old. But Winnipeg refused to lay down, getting goals of their own from David Conrad and Dan Hrabowych before the end of the opening frame to draw even.
The second period was all Thrashers, at least on the shot clock, as they outshot the Wolves 18-4, and had a 30-7 advantage through 40 minutes. But only Kyle Lee could beat Sudbury netminder Christopher McDougall, sending Winnipeg to the dressing room with a 3-2 lead.
The Sudbury powerplay took over in the third period, as Lecours – named the tournament's Top Forward on Friday night – Lockeyer and Restoule all scored with the man advantage to turn a one-goal deficit into a two-lead for the Wolves before the period was five minutes old.
Corbin Baldwin scored midway through the final frame for the Thrashers, but it was not enough to avoid just their second loss in 60 games this season.
Stefan Herrington rounded out the scoring with an empty net goal in the dying seconds to ice the win.
Sudbury won their second medal in 11 years at the National Midget Championship, their gold joining the silver they won in 1998 when they hosted the tournament.
Stillar took home player of the game honours for the Wolves while Winnipeg captain Mat Bodie, the 2008 TELUS Cup MVP and Top Defensive Player, received the award for the Thrashers.