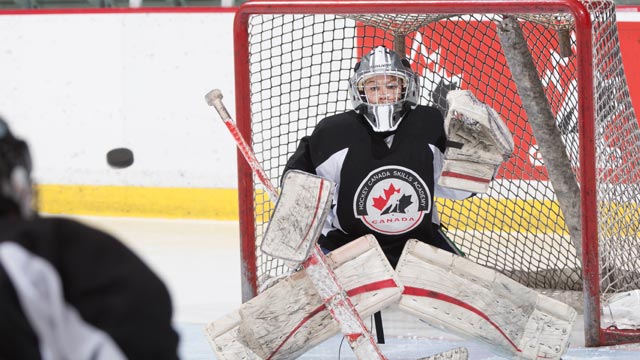 The HCSA model uses the Athlete Centered Model, wherein the student-athlete is the centre of developmental attention. The student-athlete's physical, mental and social-skill developmental needs are always respected by each organization associated with the HCSA program. Although minimum standards of performance are expected athletically and academically (as agreed upon by local partners), each student-athlete progresses at their own individual pace and ambitions. The outcome is not to develop future professional or international caliber athletes, or even Rhodes Scholars. The outcome is to enhance a student-athlete's confidence, individual playing skills, self-esteem and opportunities in both academics and athletics beyond the primary and secondary school system all while making efficient use of arena facilities during school hours.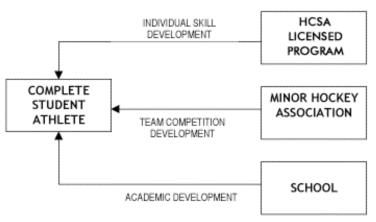 The establishment of a Hockey Canada Skills Academy program involves creating partnerships between a number of groups to be an effective and efficient program. All partners must endorse the HCSA application.
---
School Board
- ensures that the adapted academic program meets Ministry of Education requirements and students receive credit for HCSA participation.
---
School
- allows the student to commit up to but no more than 15 hours per week to the HCSA
Minor Hockey Association
- provides the total hockey experience for players in a safe and sportsmanlike environment
---
Branch
- reviews and approves new HCSA license applications on a yearly basis
The annual single-school licensing fee for program operation is $1,000. In addition, a $20 per participant registration fee is assessed. There are alternative fee options for school district models. For more information on these models,
click here
. Further information is available by contacting Paul Carson, Hockey Canada's director of development.
All active HCSA program licensees receive the following products and services on an annual basis:
1. HCSA Instructional Curriculum Framework
2. Annual HCSA Instructor Seminar
3. HCSA Instructional Resources
4. Hockey Canada Medical and Liability Insurance Program
5. Access to a Hockey Canada Apparel Licensee
6. Hockey Canada Skills Academy Logo Usage (approval and restrictions may apply)
7. Web-based Student Registration Tool
8. HCSA Promotional Materials, Banners, Business Card and Letterhead Templates
For more detailed information on applying for a HCSA License, please read the following information packages:
» Setting up an HCSA
» Application Package