What is Team McDoMD?
Team McDoMD is a minor hockey sponsorship program of Bantam level divisions in the Province of Quebec which provides free sets of Primary game jerseys and socks to all participating teams.
Who is Eligible?
Bantam teams in the province of Quebec, are eligible for Team McDoMD. If you are outside of Quebec please click HERE for sponsorship opportunities for Atom divisions.
Is this program open to both boys and girls minor hockey teams?
The Team McDoMD program is available to boys, girls and co-ed Bantam teams.
Are both Minor Bantam and Major Bantam teams eligible to participate?

Yes, all levels of Bantam Hockey are eligible to participate in McDoMD hockey.
Who can register a division/team?
Minor hockey association executives, sponsorship representatives and coaches can all register for Team McDoMD.
Is there a cost to minor hockey associations to participate in the McDoMD program?
There is no cost to associations to participate in Team McDoMD when using the standard McDoMD jersey (see Style #1 below).
What jersey styles are available?
There are two jersey styles and 14 standard colour options available.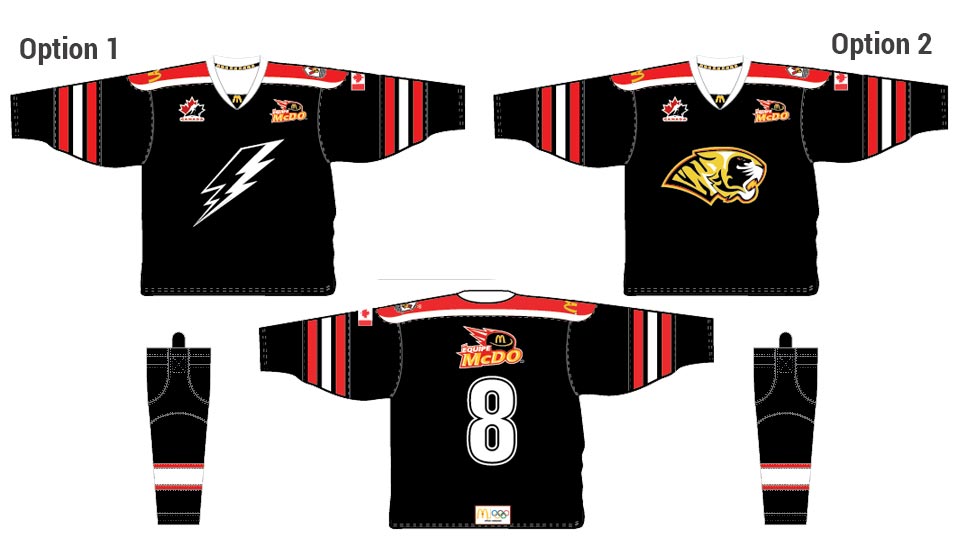 How many colour options are available for McDoMD hockey jerseys and socks?

The standard Team McDoMD Hockey jersey (see Option #1) comes with your association logo on the front centre chest (printed in black and white) and the Team McDoMD Hockey logo across the lower back. The jersey also includes the McDonald's Golden Arches logo on the right shoulder, the Ronald McDonald House Charities logo on the left shoulder, the Hockey Canada logo on the upper right side and player number.
For those associations who chose to have their association logo be printed in colour, please select Option # 2. Please note, your association will be responsible to cover the additional printing cost. The cost will be provided and approved during the qualification process with the jersey supplier. Option #2 will also feature the Team McDoMD Hockey logo, the McDonald's Golden Arches logo, the Ronald McDonald House Charities logo, the Hockey Canada logo and player number.
All participating teams will be provided with Option #1 jersey unless requested otherwise at the time the jersey order is placed.
Associations will be responsible for any incremental costs associated with the placement of additional non-competing sponsor logos and name bars on the jerseys. Should teams wish to include name bars, please place them at the bottom of the jersey, in the open space below the number and above the golden arches and Olympic rings patch.
Please note if you have "home and away" jerseys you will need to create removable name bars in order to rotate your jerseys from season to season.
Team McDoMD hockey jerseys and socks are available in 14 standard colour combos Option 1 | Option 2 (click to view colour options).
What will each team receive as part of the Team McDoMD program?
The McDoMD sponsorship team kit consists of:
Full-sets of primary game jerseys and socks
Official Hockey Canada Atom coaching material
Golden Moment jersey
And more
Can we include other sponsor logos on Team McDoMD jerseys?
Yes, non-competing sponsor logos can be added to Team McDoMD jerseys in a less prominent location. Competing sponsors include all food-service establishments. TheTeam McDoMD, Hockey Canada or Golden Arches logos can not be obstructed by any other logos.
How should we refer to our teams participating in theTeam McDoMD Program?
All participating teams should be referred to as Team McDoMD (team colour) in league schedules, websites and all printed materials (e.g. McDoMD Red, McDoMD Black, etc.).
When will I hear if our minor hockey association has been accepted into the Team McDoMD program?
You will be contacted directly by Team McDoMD program managers within four weeks of registration to confirm your registration into Team McDoMDD program.
The Team McDoMD program has a limited number of sponsorship opportunities available for the 2016-17 hockey season, and spaces will be filled on a first-come, first-serve basis. Please note that the number of available sponsorship opportunities varies according to provincial allocation. McDonald's Canada may, in its sole discretion, change the provincial allocation based on provincial response.
When will our Team McDoMD jerseys, socks and team kits arrive?
Jerseys, socks and team kits will be shipped to participating minor hockey associations in September 2016.
How long does this sponsorship last?
The Team McDoMD sponsorship is for the 2016-17 minor hockey season. Registration will re-open in early 2017 for the 2017-18 season.
Do we have to reuse the jerseys and socks or do the players keep them?
At the end of every season, each child will keep their jersey and socks. The Team McDo hockey program is designed to offer this as a memento of the season. A new set of jerseys and socks will be provided to participating teams each season. Minor hockey associations will be required to renew for the opportunity to participate in the Team McDoMD program in a subsequent season if they have already participated in the Team McDoMD Hockey program.
Can we order home and away jerseys?
Home and away jerseys are available for teams to order only if their league requires teams to have two sets. If this is the case, teams can order a "home and away" set once. One set will be given to the players at the end of the year, and the second set will be retained by the association for the following year.
The following year the association will only order one set per team, alternating the jerseys each year so kids can take them home and the association has a 1 year old set on hand.