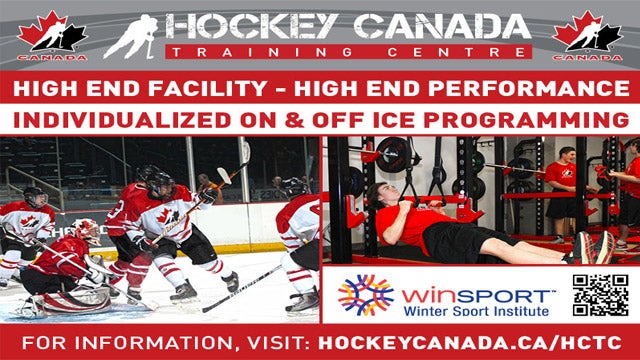 The Hockey Canada Training Centre program is for athletes who are looking to reach the next level in their development as hockey players and as athletes.
With this in mind, Hockey Canada in combination with WinSport has come up with a recommended training program for elite Hockey Players.
As the season winds down, it is recommended that athletes take a short break to recover from the grueling schedule of the season. Hockey is a difficult sport on the body and recovery is an active part of development that is far too often overlooked.
The HCTC In-Season Program is a team and individual training program designed with a focus on maintenance, technique, education and smaller load training to help athletes perform while continuing to develop and improve throughout the season.
The HCTC Off-Season Phase programming are strictly off-ice training programs aimed towards improving the physical capacities of players and preparing them for further development. The goal of these programs is to guide players through workouts, teaching them how to properly execute, create and monitor their own training through expert instruction. The focus in these phases will be improving training capacity, aerobic and muscle endurance and building mass and strength properly.
The HCTC Pre-Season Summer Phase programming is designed to prepare athletes to be firing on all cylinders for training camps, evaluations and tryouts. The goal of this phase is to improve explosive power and speed and fine tune the athlete's bodies so they can execute to impress as they are being evaluated.
Our trainers will work to identify needs in power, agility and strength and guide athletes to a stronger base of skill, knowledge and ability.
The HCTC Youth Programs are athletic development practice plans designed for the specific stages of development young athletes are in. These programs are designed to take advantage of the optimal windows for coordination, neuromuscular reactions, speed, agility and balance training, among others.
These programs are designed to graduate athletes from one stage to another, using the world class facilities provided on the WinSport campus, and train the best athletes to perform at their absolute peak.
For more information, please contact:
Greg Robertson
Manager, Development Programs
[email protected]
403-284-6483