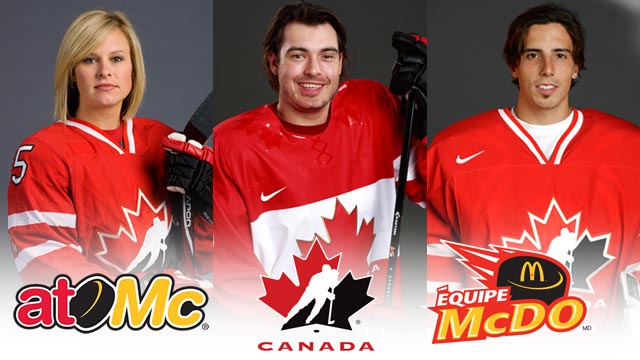 Tessa Bonhomme, Drew Doughty and Marc-André Fleury joined the atoMc Hockey program as ambassadors in 2011. These Olympic champions believe in the value of teamwork and supporting the next generation of hockey players in Canada.
Tessa, Drew and Marc-André take great pride in speaking to players about how teamwork is the cornerstone of hockey, and how they would not be where they are today without the support of their teammates.
Multi-sport athletes growing up, each has learned valuable lessons in sport and are eager to share their learnings with players and parents alike.
Each season Tessa, Drew and Marc-André meet with atoMc Hockey and Équipe McDo players and parents to play ball hockey and share a meal at McDonald's. It's hard to tell who has more fun, the young atoMc / McDo players or the seasoned ambassadors.