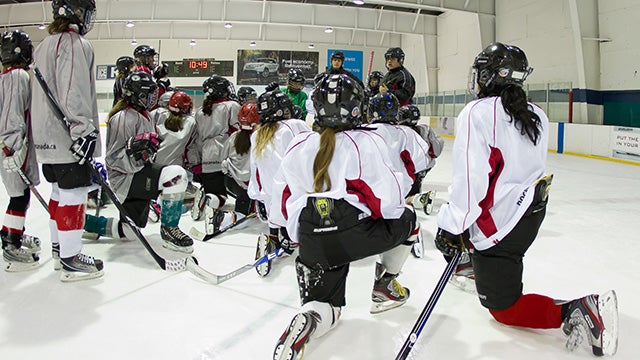 Coaching Opportunities
Coaching allows you to experience the passion of hockey from a different point of view and gives you the chance to teach skills, provide encouragement and support and play a key role in the development of female hockey players. The opportunities available within the female game keep growing with every new season – new teams, leagues and tournaments are available, and the national program continues to grow.
---
Officiating Opportunities
Officiating can provide opportunities from the beginning levels of minor hockey to the international game. The game has grown so rapidly that the opportunities for officials are vast. It is an excellent way to learn the game, stay conditioned throughout the season and work on skating skills.
---
Player Opportunities
Female hockey is one of the fastest growing sports in the world, creating more opportunities for everyone involved in the sport. There are provincial, regional, national, and international championships, which allow players more exposure and chances to compete. Players no longer have a chance to play – they have choices on where to play. There are more colleges and universities offering hockey programs, allowing girls the chance to continue playing while going to school.
---
Trainer Opportunities
With the growth of female hockey more teams need to find trainers, more specifically female trainers. The Hockey Canada Safety Program is a great place to get started.
---
Education and Hockey
Schools across Canada and the United States are creating hockey programs for females – along with the growth in the number of schools offering programs comes a lot more decisions for players and parents.
In the past females were very lucky if they were able to play hockey while attending school, today players have several options – so many so that it may even be overwhelming. Hockey Canada has created an Education and Hockey Workbook for players, parents and high school advisors to help in the selection of the school that meets the athlete's needs.
The presentation does not push players/parents in one direction or another, but acts more as a resource to help make the best decision. The presentation covers such things as academics, hockey and finances.