During the 2010 Winter Olympic Games the CHL, Hockey Canada, IIHF, NHL, NHLPA and USA Hockey announced the Molson Canadian World Hockey Summit – an opportunity for the game's key groups, along with its corporate partners and the hockey media, to positively change the sport.
---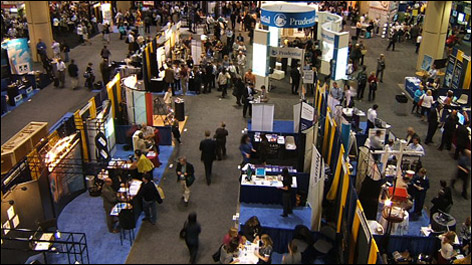 CLICK HERE for a Trade Show Exhibitors Overview document (PDF)

---
Unlike the Molson Open Ice Summit in 1999, which focused on hockey in Canada, the Molson Canadian World Hockey Summit will put the game under the global
microscope.
Over what promises to be four fascinating days, this summit will discuss the worldwide challenges facing all levels of our game, with all organizations leaving with key guiding principles to help them build the sport.
Led by the Summit Steering Committee of Bill Daly, Bob Nicholson, David Branch, Dave Ogrean, Horst Lichtner and Mike Ouellet, and moderated by the biggest names in the hockey media, a 'who's who' of panelists and keynote speakers will discuss topics that will be insightful and intriguing to all who care about the game.
Sitting alongside the key stakeholders of the game, this is your opportunity to demonstrate your corporate support and further your status as a top influence in the game of hockey.
---
QUICK FACTS
When
Monday, August 23 through Thursday, August 26, 2010
Where
August 23rd – Hockey Hall of Fame
August 24th – Air Canada Centre – Arena Floor
August 25th & 26th – Toronto Sheraton Centre (includes an on-site tradeshow)
Registration Fee
$450 Cdn.
Number of Registrations being accepted
500
Summit Leadership Team
Daniel Alfredsson, Brian Burke, Haley Wickenheiser, and Steve Yzerman
Session Moderators
Darren Dreger, Daren Eliot, Jim Hughson, Bob McCown, Pierre McGuire, Bob McKenzie, Gord Miller, Paul Romanuk, John Shannon
Panelists
Gary Bettman, Bob Boughner, Pat Brisson, Brian Burke, Bill Daly, Rene Fasel, John Furlong, Glenn Healy, Anders Hedberg, Uwe Krupp, Alexander Medvedev, Don Meehan, Darcy Regier, Angela Ruggiero, Brendan Shanahan…and more!