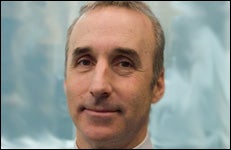 Mike Ouellet is currently the Chief of Business Affairs at the NHLPA. In that capacity he oversees all business and marketing activities of the association, including all matters relating to consumer products, licensing and sponsorships; international hockey; charitable and community relations activities through the NHLPA Goals & Dreams Fund; the union's digital and media business through nhlpa.com; and the activities of Hockey Ventures Inc., the NHLPA's newly created wholly-owned marketing company.
Ouellet assumed his current position with the NHLPA in January 2008 after spending just over two years with Omnicom Canada, Inc. (a wholly owned subsidiary of Omnicom Group, Inc. or NYSE-OMC) as its Vice President and General Counsel. Prior to joining Omnicom, Ouellet was an Associate Counsel at the NHLPA, responsible for all business department legal work from 1996 to 2005.
Ouellet has extensive international hockey experience, including helping to organize the 1996 World Cup of Hockey and serving as the co-tournament director and board member of the 2004 World Cup of Hockey. Mike is responsible for the NHLPA's joint international hockey activities with the NHL, including the annual NHL Premiere Games in Europe that launch the regular season schedule.
NHLPA
Before joining the NHLPA, Ouellet was an associate for six years at the Toronto, Ont. office of Torys LLP where he started his legal career after earning his joint LL.B/BCL degree from McGill University in Montreal. Ouellet also has a Bachelor of Commerce from Concordia University in Montreal.
Ouellet, his wife Charlene, son Marcus and daughter Alexa live in Toronto.
Source: IIHF and NHLPA