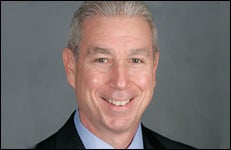 John McDonough was named president of the Chicago Blackhawks on November 20, 2007. Under his guidance, in what Forbes Magazine has called the "The Greatest Sports-Business Turnaround Ever," the Blackhawks have moved quickly to revitalize the team's profile and re-energize its fan base. With McDonough's direction, the Blackhawks achieved their "One Goal" of a Stanley Cup championship in 2010, the team's first title since 1961.
The Blackhawks have grown a season ticketholder base from 3,400 to over 14,000 in under a year. For the first time in franchise history, the Blackhawks welcomed over one million fans to the United Center during a single season in 2008-09 (1,052,261), while establishing an NHL club record by attracting a league-leading average of 21,783 to their 40 home dates at their home arena.
McDonough was also instrumental in bringing NHL Winter Classic 2009 to Chicago, a contest that matched the Blackhawks against the Detroit Red Wings in front of 40,818 fans at Wrigley Field on Jan. 1, 2009. The game drew an 11.8 overnight rating and a 21 share on NBC in Chicago and over 4.4 million U.S. viewers overall, making it, at the time, the most-watched NHL game in almost 34 years, according to Nielsen Media Research.
Prior to joining the Blackhawks, McDonough served as president of the Chicago Cubs. As the Cubs chief, and in his previous role as senior vice-president of marketing and broadcasting, the club consistently reached record attendance and revenue figures. With McDonough's many achievements have also come several honours and awards, including Major League Baseball's Marketing Excellence Award, the Chicago Baseball Veterans Committee Man of the Year, Chicago Baseball Executive of the Year and America's Top Ten Marketing Executives by Promo Magazine.
McDonough is a member of the National Hockey League Club Business Advisory Board and the National Hockey League Board of Governors.
Source: USA Hockey & IIHF