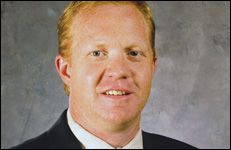 A two-time (1988, 1992) U.S. Olympian as a player, Jim Johannson joined USA Hockey's national office on Sept. 1, 2000 as manager of international activities and U.S. Olympic Committee relations. He was promoted to senior director of hockey operations, a newly created position, on Aug. 5, 2003. On June 25, 2007, Johannson was elevated to assistant executive director of hockey operations and he is now responsible for the day-to-day management and integration of all in-sport related initiatives. He handles USA Hockey representation in obtaining players and coaches for national teams in international competition. In addition, Johannson interfaces with the USOC on matters of mutual interest.
Johannson has served on the staff of three U.S. Olympic Men's Ice Hockey Teams, including earning silver medals at the 2002 and 2010 Olympic Winter Games. He has also worked with 10 U.S. National Junior Teams, including as the general manager of the 2010 gold medal-winning U.S. Team. In addition, he was the lead administrator in hosting the 2005 IIHF World Junior Championship in Grand Folks, N.D., and Thief River Falls, Minn.
A former U.S. National Team member, Johannson spent five years as the general manager of the Twin Cities Vulcans, a Junior A team in the United States Hockey League. Under his guidance, the Vulcans captured the 2000 USA Hockey Junior A National Championship in Green Bay, Wis.
Johannson, a native of Rochester, Minn., played nine seasons in the International Hockey League, splitting time among three teams. Prior to embarking on his professional career, Johannson played at the University of Wisconsin, where he helped the Badgers capture the 1983 NCAA Division I National Championship.
Johannson, who resides in Colorado Springs, Colo., is ranked among the top 100 people of power and influence in hockey by The Hockey News.
Source: USA Hockey