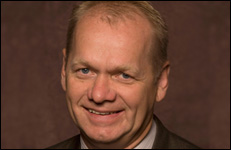 Darcy Regier recently completed his 13th year as General Manager of the Buffalo Sabres, the longest tenure of any Sabres GM in the 39-year history of the franchise. The Sabres captured the 2009-10 Northeast Division title, finishing with a record of 45-27-10. During Regier's tenure, the Sabres have posted a record of 483-361-140. Regier has led the franchise through some of its finest seasons – including the Stanley Cup Finals in 1999 and back-to-back Eastern Conference Finals appearances in 2006 and 2007 – while also managing the team through its most difficult times. He has molded the Sabres into one of the most competitive and exciting young teams in professional hockey. Regier and head coach Lindy Ruff make up the longest GM/Coach combination in pro sports and have had more success than any tandem in franchise history.
In recent years, Regier reorganized the Sabres' scouting department, paying immediate dividends in the NHL Entry Draft. Of the 29 players who took to the ice for Buffalo in 2009-10, 18 were acquired through the Entry Draft and had spent some time with the team's AHL affiliate. Among them were Derek Roy, Jason Pominville and Thomas Vanek, three of Buffalo's four leading scorers and all signed to long-term contracts. Vanek was selected fifth overall in 2003, while Roy (32nd) and Pominville (55th) were drafted in the 2nd round of the 2001 Draft. Roy is the elder statesman of the trio at 27 years old, while Pominville is just 27 and Vanek is 26. In addition, Vezina Trophy winning goaltender Ryan Miller is entering the second season of a five-year contract that will keep him in blue and gold through the 2013-14 season.
Buffalo's roster also includes several other players who were drafted in the first or second round since Regier's first draft in 1997, including: 2010 Calder Trophy winning defenseman Tyler Myers (1st, 2009), Tyler Ennis (1st, 2009) and Drew Stafford (1st, 2004). Regier's staff has also done a solid job in the later rounds, with young players like Chris Butler (4th, 2005) and 2009-10 AHL Rookie of the Year, Nathan Gerbe (5th, 2005) already starting to make an impact in the organization.
The hockey department's success hasn't been limited to draft day. Several trades and free agent signings have landed Buffalo some of their most valuable contributors. Craig Rivet was acquired from San Jose in July 2008, and was named team captain just months later. Rugged free agent defenseman Steve Montador was signed to a two-year deal last July, and veteran winger Mike Grier recently re-signed with the Sabres as well.
Prior to joining the Sabres, Regier served in roles with the Islanders as: Director of Hockey Administration, Assistant Coach, and Assistant General Manager. While on Long Island, he supervised the club's amateur development, and saw their International Hockey League affiliate win back-to-back championships (Denver Grizzlies in 1994-95 and then, after moving to Salt Lake City, the Utah Grizzlies in 1995-96). Legendary Islanders' coach Al Arbour, along with Bill Torrey, who served in roles as General Manager, President, Chairman of the Board, and Consultant with New York, were significant contributors to Regier's career in hockey. Regier left the Islanders organization briefly in the 1991-92 season to serve as an assistant coach with the Hartford Whalers.
Born in Swift Current, Saskatchewan, he was the fifth choice (77th overall) of the California Golden Seals in the 1976 Amateur Draft. He appeared in 26 NHL games over the course of three seasons with the Cleveland Barons and the New York Islanders, totaling two assists and 35 PIM. Regier played parts of eight seasons of professional hockey and was a member of three championship teams. In 1982, he was named a First Team All-Star with Indianapolis (IHL), where he learned from one of the people he considers an influence on his hockey life, current Detroit Red Wings Senior Vice President Jim Devellano, then the team's GM.
During his playing career, Regier was involved in the early setup of the Professional Hockey Players' Association.
Darcy and his wife, Katherine, reside in Clarence and have three sons: Jonathan, Justin, and Jarrett.
Source: NHL