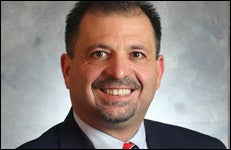 With extensive coaching experience in the collegiate, professional and international ranks, Bob Mancini was named a regional manager of USA Hockey's American Development Model in July 2009. He assists local associations in Illinois, Indiana, Michigan and Missouri with implementing the ADM, which is a blueprint for optimal athlete development that focuses on age-appropriate training utilizing long-term athlete development principles.
Mancini joined USA Hockey having spent two seasons (2007-09) as a development coach for the NHL's Edmonton Oilers. His additional USA Hockey stints included serving as the director of player personnel for the U.S. National Junior Team that earned the silver medal at the 1997 International Ice Hockey Federation World Junior Championship in Geneva and Morges, Switzerland. He was also an assistant coach for the men's team at the 1997 and 1998 IIHF World Championships, the 1998 and 1999 IIHF World Junior Championships and the 1999 and 2000 IIHF Men's World Under-18 Championships.
Mancini initially came to USA Hockey in 1996 as part of the inaugural staff of the highly successful National Team Development Program. He worked as a coach within the NTDP until 2000.
In addition to his USA Hockey experience, Mancini served as the general manager and head coach of the Ontario Hockey League's Saginaw Spirit from 2004-07. He led the Spirit to their first two playoff appearances (2006, 2007) and the team's most wins and points during the 2006-07 campaign.
Mancini also has experience coaching in the collegiate ranks, having served as the head coach of the Michigan Tech University men's ice hockey team from 1992-96. While at Michigan Tech, Mancini led the Huskies to three Western Collegiate Hockey Association Final Five appearances. He also was the head men's ice hockey coach at Ferris State University from 1990-92.
Source: USA Hockey