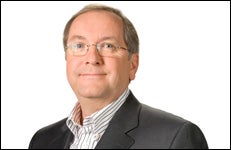 After graduating from Ryerson in 1978, Shannon says he was fortunate to be at the right place at the right time in the TV world. Soon after graduating, he began full-time work with CBC's Hockey Night in Canada, producing NHL games across the continent. In 1980, he moved to Calgary, Alta. to be the show's western producer during what was an outstanding time to be around the best teams in the league. As a result, he was able to produce the Stanley Cup Final every year that decade. Shannon says he has been blessed by the chance to be part of the NHL playoffs for 32 years. Combined with the five Olympic Games that he has been involved in, Shannon calls his life in hockey "a fruitful journey for my family and me."
Beyond hockey, Shannon has produced PGA Golf, CFL Football and NASL Soccer for television, along with coverage for other sports including but not limited to tennis, basketball and curling. His career highlights include his first Stanley Cup Final as a producer, which was the New York Islanders beating the Philadelphia Flyers in 1980 when Bob Nystrom scored an overtime goal in Game 6; working the 1994 Olympic Winter Games in Lillehammer, Norway; producing Wayne Gretzky's last NHL game in Canada on April 15, 1999; experiencing Canada's first Olympic hockey gold in fifty years at the 2002 Winter Games in Salt Lake City, Utah and launching both Leafs TV and Raptors NBA TV.
Shannon was born on June 21, 1956 in Oliver, B.C. and his first media job was in 1977, when he worked as a runner for Hockey Night In Canada.
Source: Sportsnet