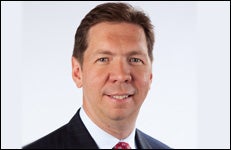 Gord Miller has covered hockey extensively as a host, reporter and commentator since joining TSN in 1990. His current duties include play-by-play announcer for TSN's extensive NHL and international hockey coverage. Miller was nominated for a 2008 Gemini Award in the Best Sports Play-by-Play Announcer category for his work on the 2008 IIHF World Junior Championship: Gold Final.
Miller first called hockey games for TSN in 1993 at the Men's World Hockey Championship, which was quickly followed by play-by-play action for TSN's coverage of the NHL, IIHF World Junior Championship, World Cup of Hockey, Women's World Hockey Championship and various Memorial Cups.
From 1998 to 2001, Miller was the host of TSN's popular nightly hockey program Molson That's Hockey, hailed by TV Guide as the "most informative hockey show on television."
In 1999, Miller anchored TSN's critically acclaimed coverage of Wayne Gretzky's retirement, and later that year was selected by The Hockey News as one of the game's 100 most powerful and influential people.
In addition to hockey, Miller previously covered other high profile sports events for TSN including the Olympic Games, World Cup, World Series, British Open and World Figure Skating Championships. Miller also worked as TSN's CFL play-by-play announcer for six years.
Prior to joining TSN, Miller, an Alberta native, worked for CBC in Edmonton covering the Oilers.