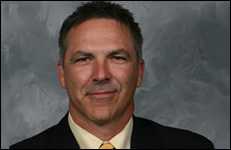 SportSouth analyst Darren Eliot has covered the Atlanta Thrashers since the team's inaugural season in 1999-2000, garnering two Emmys during his tenure. In addition to his work as a broadcaster, Eliot serves as the Thrashers hockey development liaison, helping oversee the organization's community hockey programming.
Beyond broadcasting for SportSouth, Eliot covers the NHL nationally, entering his fifth season as an analyst on Versus and contributing a weekly column, The Week That Was, on Versus.com. His View from the Ice column has runs weekly on SI.com since 2001. Eliot has also written extensively for NHL.com and atlantathrashers.com and has contributed to The Hockey News. Prior to joining the Thrashers, Eliot spent two seasons as an analyst for the Anaheim Ducks.
Prior to his career in broadcasting, Eliot worked for Computer Methods Corporation, a software-consulting firm headquartered in Livonia, Mich. There he served as president of CMC's engineering services subsidiary, EnGenius, Inc., from 1997-99.
A 1983 graduate of Cornell University with a degree in agricultural economics, Eliot earned membership into the Red Key Society for students exemplifying excellence in academics and athletics. With the Big Red, Eliot was a two-time All-Ivy selection and earned All-America honours as a senior. He entered the Cornell Athletic Hall of Fame in 1996.
Eliot played five seasons in the NHL for the Los Angeles Kings, Detroit Red Wings and Buffalo Sabres.
Source: USA Hockey and IIHF