A retired Canadian professional ice hockey player and current General Manager of the Tampa Bay Lightning of the National Hockey League. Yzerman played his entire National Hockey League (NHL) career with the Detroit Red Wings and is a member of the Hockey Hall of Fame.
HOCKEY CANADA BACKGROUND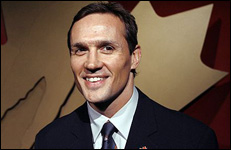 Served as executive director of Canada's National Men's Team at the 2010 Olympic Winter Games in Vancouver, B.C., winning gold … Served as Canada's general manager at the 2008 IIHF World Championship in Quebec City, Que./Halifax, N.S., winning a silver medal … Served as Canada's general manager at the 2007 IIHF World Championship in Russia, winning a gold medal … As a player, represented Canada on eight occasions … Selected to play for Canada at the 2004 World Cup of Hockey, but was injured and unable to participate … Won a gold medal with Canada at the 2002 Olympic Winter Games in Salt Lake City, Utah, serving as an alternate captain … Played for Canada at the 1998 Olympic Winter Games in Nagano, Japan, finishing fourth … Played for Canada at the 1996 World Cup of Hockey, finishing second … Played for Canada at the 1990 IIHF World Championship in Switzerland, finishing fourth, and was named Top Forward … Won a silver medal with Canada at the 1989 IIHF World Championship in Sweden … Won a silver medal with Canada at the 1985 IIHF World Championship in Czechoslovakia … Won the 1984 Canada Cup with Canada … Won a bronze medal with Canada at the 1983 IIHF World Junior Championship in the Soviet Union.
HOCKEY BACKGROUND
Is currently the vice-president and alternate governor of the Detroit Red Wings … Played 22 seasons for the Red Wings before retiring on July 3, 2006 … Recorded 1,755 points (692g, 1,063a) in 1,514 career games … Was captain of the Red Wings for his final 20 seasons … Holds all-time franchise records for assists (1,063) and shorthanded goals (48) … Holds franchise single-season records for goals (65), assists (90) and points (155), all in 1988-89 … Had his No. 19 retired by the Red Wings on January 2, 2007, joining Red Wing legends Terry Sawchuk (No. 1), Ted Lindsay (No. 7), Gordie Howe (No. 9), Alex Delvecchio (No. 10) and Sid Abel (No. 12) as the only players to receive this honour in franchise history … Won three Stanley Cups with the Red Wings (1997, 1998, 2002) … Won the Conn Smythe Trophy, as playoff MVP, in 1998 … Played in nine NHL All-Star Games (1984, 1988, 1989, 1990, 1991, 1992, 1993, 1997, 2000) … Named to the NHL First All-Star Team in 1999-2000 … Won the Frank J. Selke Trophy as the NHL's top defensive forward in 1999-2000 … Won the Bill Masterson Memorial Trophy, as the NHL player who best exemplified perseverance and dedication to hockey, in 2002-03 … Won the Lester B. Pearson Award, as the NHL's most outstanding player as voted by the NHLPA, in 1997-98 … Named to the NHL All-Rookie Team in 1983-84 … Played two seasons (1981-83) with the OHL's Peterborough Petes … Played one season (1980-81) for the CJHL's Nepean Raiders (Junior A), who now play in the CJHL's Yzerman Division, and play their home games at Steve Yzerman Arena.
PERSONAL
Resides in Detroit with wife Lisa and their three daughters: Isabella, Maria and Sophia … Favourite hobbies: golf, boating … Wore No. 19 because his idol was Bryan Trottier … Born on May 9, 1965 in Cranbrook, B.C.
Source: Hockey Canada