Janes All In: Manon Rhéaume
Twenty-eight years after she became the first – and still only – woman to play in an NHL game, the two-time world champion is inspiring a whole new generation of young girls
---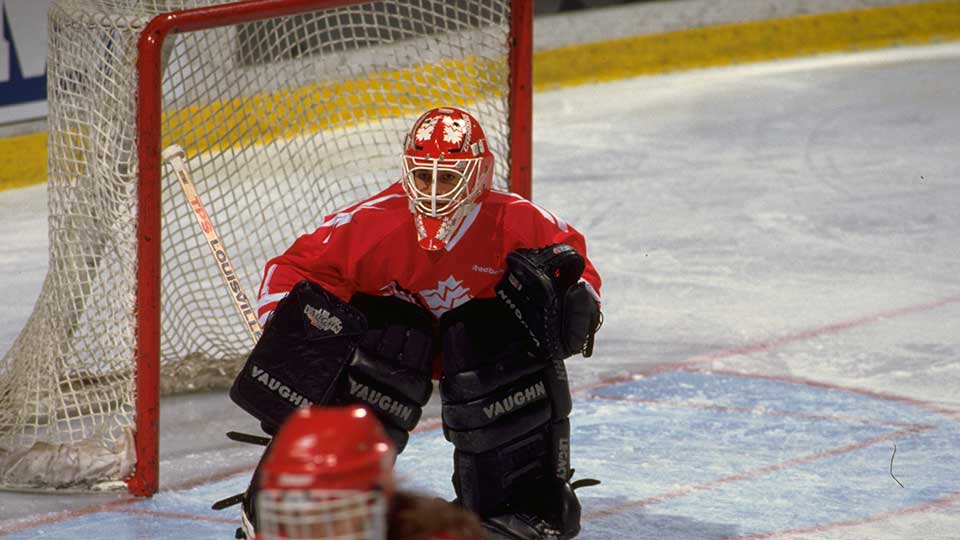 by Katie Brickman
Manon Rhéaume is a hockey pioneer and continues to inspire young women to play the game.
The Lac-Beauport, Que., native is a part of hockey history, being the first woman to play any major North American professional sports league when she played 20 minutes for the Tampa Bay Lightning in a preseason game in September 1992.
She was also the first girl to play goal for a boys team at the Tournoi international de hockey pee-wee de Québec, in 1984, and the first woman to play in the Quebec Major Junior Hockey League, with the Draveurs de Trois-Rivières in 1991.
Rhéaume fell in love with the game early, playing on outdoor rinks with her brothers, including younger sibling Pascal, who would go on to a 318-game NHL career. Playing goalie was something she fell quickly into.
"Every time I wanted to play with my brothers, they would dress me up as a goalie and shoot pucks at me," Rhéaume says.
She remembers the first time she had a chance to play in a game when her brother's team needed a goalie for a tournament.
"When dad brought me to the rink the first time to be the goalie, he put the helmet on me before I even entered the arena because he didn't want people to judge me because I was a girl," she says. "He wanted people to think they got a new goalie. After practice, they realized that I was a girl, and it was too late for them to go back on their word."
She played her way to the international stage, winning gold medals at the 1992 and 1994 IIHF World Women's Championships and a silver medal at the 1998 Olympic Winter Games with Canada's National Women's Team.
"It was an amazing experience. To be a part of that group representing your country was monumental," she says.
In 1992, Rhéaume broke the ultimate barrier when she donned the No. 33 with the Lightning and tended the crease in an exhibition game for the expansion team, making seven saves in one period of work against the St Louis Blues.
"I remember that walk from my locker room to the ice, and it was the most nervous I've ever been in my life. I felt like my heart would come out of my chest," Rhéaume says. "Once I stepped on the ice, it was all gone, and I forgot about the hype of me being the first female. I didn't even think about that."
Despite the publicity that resulted from her signing a contract and playing in a game, Rhéaume defended her decision.
"The one thing people didn't talk about is that we started training camp with a small tournament. I did not allow any goals in my first time on the ice. I was the only goaltender who didn't allow a single goal. I finished in the top three in save percentage and goals-against [average]," she says. "I earned that game from my performance in camp. They didn't just give me that start because I was a female and they wanted publicity."
Her decision to play was also because she was given an opportunity to prove herself and play at the highest level – something she couldn't do growing up.
"Many times when I was younger, I couldn't have made the highest level because they didn't want a girl on the team," she says. "I was the one that was had to prove myself. I didn't want to have regrets."
Rhéaume played in another exhibition game with the Lightning in 1993, and made sporadic appearances in men's minor pro leagues throughout the 1990s, including stops in Atlanta, Knoxville, Nashville, Tallahassee, Las Vegas and Reno.
Today, the drive to inspire others to play keeps Rhéaume motivated to stay involved in the game.
She is the girls program coordinator for the Little Caesars AAA Hockey Club and the U12 girls coach in Detroit. She loves seeing the players develop skills on and off the ice.
"Sports in general are so important for young girls. Anyone that has succeeded in the business world and life, many of them are athletes where they learned to be a leader, to be a part of a team and to have confidence in themselves," she says. "I am involved with youth hockey for that exact reason. I know what hockey brought me, and without it, I don't know if I could have accomplished all that I have in life after hockey."
Rhéaume has seen the game grow at the international level and at the grassroots, but wants to see more dedicated support for the best players to compete year-round.
"I think what is missing is a solid pro league with the support of the NHL and the support of USA Hockey, Hockey Canada and the other countries," she says. "The only way we can have the other countries as strong as Canada and the U.S. and competing is for their players to come and play in the league all year long."