Janes All In: Kim St-Pierre
Despite not finding her way to the women's game until her late teens, the three-time Olympic gold medallist carved out an unmatched career between the pipes
---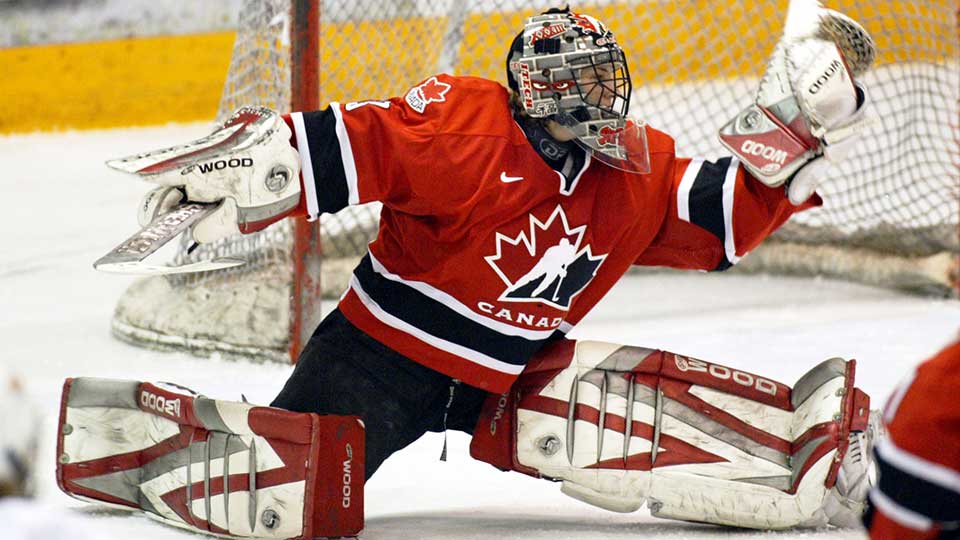 by Chris Jurewicz
Kim St-Pierre was 18 years old and wasn't sure where her hockey career could go. She thought she might be done playing the game she loved.
"I thought my career was over because I was not able to make Team Quebec, the girls' team here would always cut me at every training camp. And I was not drafted to Major Junior, either," says St-Pierre, who had exclusively played with the boys to that point. "But then, at some point, there was someone from McGill University that came to watch one of my games and they invited to go and play for the McGill women's team. That was my transition to the women's game."
It's incredible to think that arguably the best women's hockey goaltender to ever strap on a set of pads – a three-time Olympic gold medallist, five-time world champion and a member of the Class of 2020 for the Hockey Hall of Fame – had had those doubts in her later teenage years.
St-Pierre grew up with two older brothers who loved hockey and a father, André, who played the game at a high level and was selected by the New York Rangers in the 1970 NHL Entry Draft.
"A big part was the influence of my two brothers. They were always playing hockey so, if I wanted to be with them, I had to be the goalie getting the frozen tennis balls shot at me," St-Pierre says of her childhood in Châteauguay, Que. "For me, as long as I was with my brothers I was happy, so that's kind of how I got into the game. I thought 'Maybe I could become a goalie one day.' My dad would always build an ice surface in our backyard during winter so we got to play a lot of hockey there with the neighbourhood kids."
She was a figure skater first but, at the age of eight, asked her parents to play hockey. St-Pierre says she was the only girl in her community that played. She didn't know much of the women's game until 1998, a year that brought everything together.
"During the Nagano Olympics in 1998, I remember my mom waking me up to watch the final game, Canada against the U.S. I don't know why, but that day I thought, 'I think I can make this team one day,'" says St-Pierre. "To see the passion the girls had in their eyes, the hard work. It felt so bad when I saw that they lost the game, even though I didn't know anyone on the team. That was February 1998 and I got into McGill in September 1998 and my first [Team Canada] camp was in October or November 1998.
"Everything happened that year, watching the Olympics and then having an opportunity to play women's hockey with McGill and then getting this invitation. Manon [Rhéaume] was pregnant right after those Olympics, so there was an opening on the national team and I knew it was my chance, I couldn't miss this opportunity. So my first year, my first camp, I was able to make the national team."
St-Pierre put together a legendary career that has set the bar for Canadian goaltending. She is the all-time leader with Canada's National Women's Team in games (83), wins (64) and shutouts (29). She posted a 1.17 goals-against average and .939 save percentage over the course of her national team career.
There's a long list of highlights for St-Pierre when it comes to wearing the Maple Leaf, but the 2001 IIHF World Women's Championship in Minnesota and 2002 Olympic gold medal game in Salt Lake City stick out. St-Pierre backstopped Canada to 3-2 wins in both of those games.
The 2002 Olympic final was memorable for so many reasons, but mainly for Canada's resilience. It rebounded from a heartbreaking loss at the 1998 Olympics in Nagano and eight straight losses to the Americans in the lead up to the Games. In addition, Canada had to contend with a slew of penalties, 13 in total, including eight straight that were called against the team.
"It was quite the experience, moving to Calgary, going through my first centralization, playing hockey, training, doing this full-time; that made it a very special year," says St-Pierre. "It was also a hard one, losing eight times to the Americans that season. It was a great learning experience and being able to win the gold medal made it so special. To be the first Canadian team to win in women's hockey.

"What a team we had. That's what I remember from that season – how everyone got together and we got this magical power that no one could go against us. Even the referees when we got 13 or 14 penalties called against us. This team was amazing."
Today, St-Pierre is a mom of two and a regional coordinator for BOKS Canada, an organization that offers free resources to school kids to ensure they stay active. She's thrilled to see the growth of the women's game and, like many, believes the time is now for a women's professional league.
"That will be the summit," she says. "If we can achieve that, I will be really happy."