Janes All In: Jayna Hefford
A leader on the ice during her 17-year international career, the four-time Olympic gold medallist remains at the forefront of the growth of women's hockey
---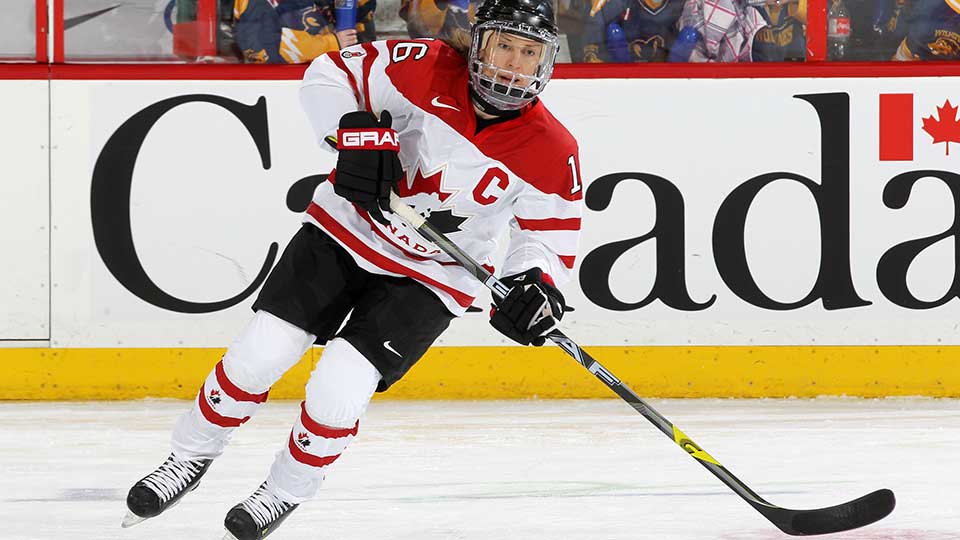 by Katie Brickman
A deep passion for the game of hockey led Jayna Hefford to a brilliant playing career.
That same passion is now driving her to push for a more inclusive game as a leader of the Professional Women's Hockey Players Association (PWHPA).
"I just had this passion for the game that continued to drive me, and it still does now," Hefford says. "Even though I'm no longer playing, I still love the game, and I want to see the women's game get to a place where young girls can dream of having a job as a hockey player."
Hefford is an operations consultant for the PWHPA, an organization representing 200 of the game's best players. In her role, she handles the day-to-day operations, including event planning, sponsorships and player communication.
"We are trying to push the game forward and try to get to the point where the women have a professional league that allows them to have a career in hockey," she says.
Growing up in Kingston, Ont., Hefford got involved in the game from an early age. The ice became a place where she felt most comfortable.
"I loved the competition. I loved the camaraderie of being on a team and challenging myself to get better, especially as I got older and went through the high-performance level," she says.
Hefford joined the University of Toronto program and was identified by Hockey Canada, making her debut with Canada's National Women's Team at the 1997 IIHF World Women's Championship.
From there, Hefford – who went into the Hockey Hall of Fame in 2018 – carved out an illustrious playing career that included four consecutive Olympic gold medals, six world championships and the second-most goals, points and games played with Team Canada.
"I feel so fortunate to have had a long career and a career with Hockey Canada," she says. "It was a huge honour to represent Canada for as long as I did."
Her time with Hockey Canada has stayed with her as those teammates became close friends, mentors, and confidants. She has stayed in touch with many former players, who are also still involved in the game.
"Those friendships over my 17-year career are still some of my best friends now and people I will always remain close with and have those special memories with," Hefford says. "Many of my friends are still involved in the game in some capacity. More from my generation are in the game, whether it be broadcasting or coaching or skills training, than I would have imagined."
As a mother of two daughters and a son, Hefford strives for a new vision of the women's game. That's what drives her and her work with the PWHPA – pushing for a living wage, more coverage and one league with the best players competing.
"I want my daughters to grow up and do whatever they want to do and not have their gender limit them," she says.
Hefford was interim commissioner of the Canadian Women's Hockey League (CWHL) from 2018 to 2019. In May 2019, it was announced the league couldn't continue and disbanded.
"It was a huge opportunity to learn and really understand the landscape of women's sport from a business perspective and what really needed to change in the way women's sport is supported," she says.
Her goal includes partnering with major players like the National Hockey League (NHL) and corporate sponsors to help grow the game.
"I definitely think the NHL plays a role in the future of the women's game. They have the expertise, the knowledge, the infrastructure, and the resources to help the game grow," she says. "I think we are seeing progress, but we aren't there yet, and there is a lot that needs to happen and change."
Hefford was clear on why growing the game is essential.
"[It is about] the importance of sport to kids and specifically the importance of sport to young girls. I think it is crucial because we have seen the research around leadership and self-confidence that sports bring to kids. The other side is keeping the sport of hockey healthy. If we don't become more inclusive as a group, the game will not continue to grow."