Janes All In: Cassie Campbell-Pascall
Twice an Olympic gold medallist, the former 'Captain Canada' remains an influential voice in the development of the women's game
---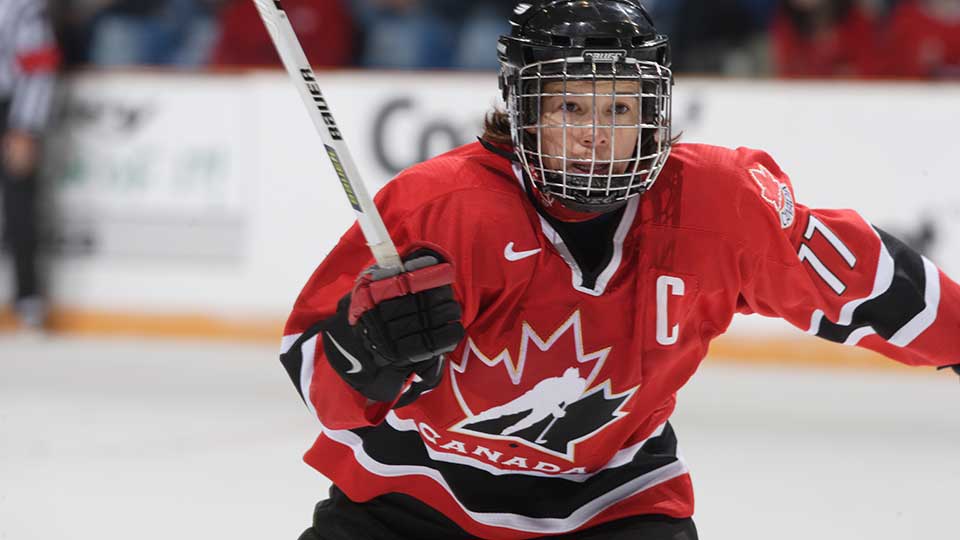 by Jason La Rose
There's an unwritten rule around Hockey Canada and its national teams – if you're not early, you're late. If the bus leaves at 10 a.m., you better be in your seats and ready to roll at 9:55.
Today, Cassie Campbell-Pascall is best known for her two Olympic gold medals, her six IIHF World Women's Championship gold medals, her run as captain of Canada's National Women's Team and her work with Hockey Night in Canada, among many, many other honours and accolades.
But in 1994, a 20-year-old Campbell-Pascall was a fresh-faced rookie at her first national team camp, and in her eagerness to get to camp she took the 'be early' mantra to the extreme.
"I guess I was a little too excited," Campbell-Pascall says. "I was at university at the time and showed up a day early to camp. I showed up and Patti McGarry was there, who was working with Hockey Canada at that time. She said, 'Hey, you're not supposed to be here till tomorrow. But if you want to stay, you can stay.' So I stayed."
She stayed in 1994 and she stayed for the next 12 years, becoming the heart and soul of the national team and one of the most recognizable faces of the women's game.
A product of Brampton, Ont., Campbell-Pascall followed her older brother Jeff into the game, working her way up the minor hockey ladder just as women's hockey was stepping onto the international stage.
She was in her mid-teens when Ottawa hosted the first women's worlds in 1990, and had a life-changing meeting with some of Canada's golden girls at a minor hockey tournament shortly after.
"They had their medals and they had their pink and white tracksuits," Campbell-Pascall says. "I remember Angela James, Geraldine Heaney, Laura Schuler was there, Vicky Sunohara…
"It was an influential time in my life as to what sport I was going to continue to play, because you had to start to choose at that age, and if I really had a future in hockey, where could I go? Where could I play? And in meeting those women and seeing that [gold medal] game on television, getting an opportunity to be part of the Canada Winter Games [in 1991], all those things happened around that age for me. And I know they're a big part of why I was able to continue on and play and continue to love the game."
An alternate captain beginning in 1997, Campbell-Pascall succeeded Thérèse Brisson as captain in the lead-up to the 2002 Olympic Winter Games, where Canada – despite eight straight losses to the U.S. going into the tournament – downed the Americans to win its first women's hockey gold.
"We beat them one time, and that was the time that mattered the most," she says. "Through adversity, we became a great team. That day, that moment in February 2002, we were a great team."
She wore the 'C' again at the 2006 Games in Turin, Italy, becoming the only Canadian to captain two teams to Olympic gold before announcing her retirement in August of that year. Since then, she became the first women's hockey player inducted into Canada's Sports Hall of Fame, was the first woman to receive the Order of Hockey in Canada and was invested as a Member of the Order of Canada.
More than 14 years after her retirement, Campbell-Pascall – who rejoined the Team Canada fold as an advisor last season – remains a prominent voice in the women's game. She has spoken out about the need for a singular professional league to ensure the best players in the world have somewhere to play.
"We have to work together," she says of what is needed to make that dream a reality. "I think that the biggest issue in women's hockey right now is we don't have a group of people, for some reason, that want to work together. We have too many people that want the glory instead, and it's been real frustrating for me. I felt like I needed to step back a little bit and be less of a voice and allow the current players step up, and I think that's been important for the game."
Stepping back has also allowed her to focus on her most important role – mom. Campbell-Pascall's daughter Brooke is 10 years old and finding her own way in the game.
"It brings me back to the memories that I had, and now being on the ice and being an assistant coach of her team, knowing the importance of what my mom went through, separating being the parent and being the coach," she says. "I really hope she loves the game. And if she doesn't, that's fine, she can go on and do whatever it is she wants to do. But right now I know she loves the social aspect of it. I know she's having a lot of fun and that's what's important to me, and it's really cool to see her out there."