Janes All In: Caroline Ouellette
The four-time Olympic gold medallist is watching the women's game grow from behind the bench, and believes the best is yet to come
---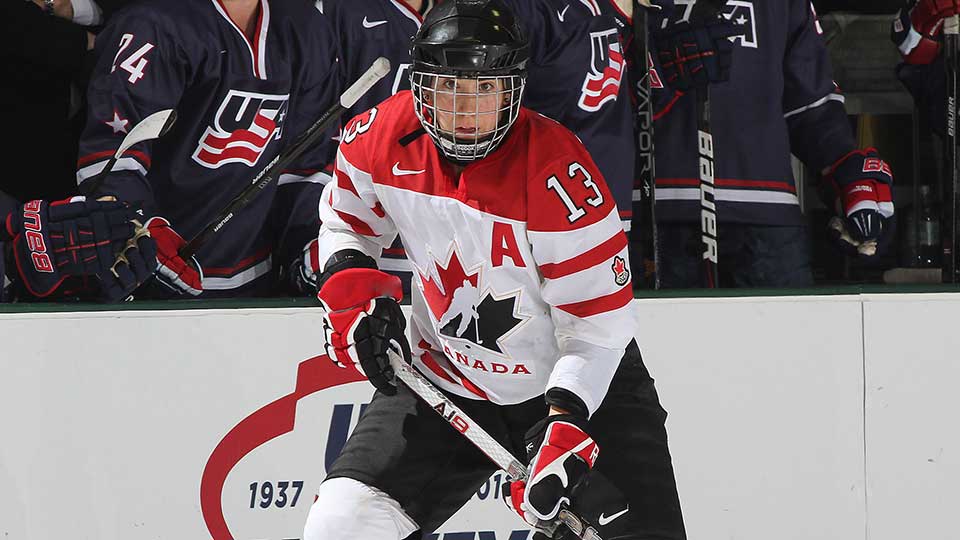 by Chris Jurewicz
The path has cleared, but there is still so much work to do.
Caroline Ouellette is just over two years removed from announcing her retirement from the game of hockey. One of the all-time greats, Ouellette was a member of Canada's incredible reign of four-consecutive Olympic gold medals from 2002 to 2014.
Her on-ice game was legendary – the work ethic, the leadership, the focus.
But Ouellette's work off the ice as a coach – she is the interim head coach of the women's hockey team at Concordia University and has worked with Hockey Canada – and ambassador is just as important, and she knows the state of the game is much stronger than when she played her first game at nine years old.
"When I started playing hockey, it was something you rarely saw. It was an exception," says Ouellette. "We were outcasts, we were tomboys, we were different. The [generation] before, thinking about other pioneers like Danielle Goyette, France St-Louis, they had it even harder. It took me two years to convince my parents to let me play. My dad had never seen a girl play hockey. He brought me to watch a game of ringette and I hated it. I wanted to play hockey. He gave in and he signed me up. I was so excited that I could finally play."
Today, a lot has changed. Seeing girls play hockey from a young age is the norm in Canada; they can aspire to play hockey at a high level and earn scholarships to top-rated colleges throughout North America and, of course, there's the dream of playing for Canada's National Women's Team.
But Ouellette wants to see more opportunities for women in the game, not only in Canada but throughout the world.
"I think that as much as the boys see the NHL as the biggest achievement in hockey, our young girls see the Olympics that way," says Ouellette. "I've made it a mission to fight as much as I can for the growth of women's hockey so that, one day, the best girls and women can play professionally. Right now, there isn't that dream, there isn't that possibility and it is really unfortunate because there are so many leagues around the world that exist for men to make a living out of hockey. I certainly think that the best Canadian, American and European players, they should be able to play with and against one another. We're not quite there yet but, that being said, it has progressed tremendously."
Ouellette, 41, grew up speaking only French in Montreal. Through to her teenage years, Ouellette played hockey solely with boys. She rarely saw another girl on the ice, so it was a bit of a shock when, at the age of 15, she hit the ice with Quebec's top under-18 women and saw the caliber of other elite players.
That experience was the first time she remembers thinking she wanted to play at the highest level. Until then, Ouellette had dreams of playing in the NHL, just like her teammates on club teams. At the age of 16, Ouellette made her first international appearance. She remembers being shy those days, primarily because she didn't know much English. But there was also the pride of playing for Team Canada.
"I certainly remember the pure joy of putting the jersey on for the first time," she says. "Even wearing the practice jersey and to show up at the rink and see all the stalls and seeing the jersey in there. The pure joy in the sense of reaching your biggest dreams. It was a great experience."
Ouellette made Canada's National Women's Team for the first time at 19 and was part of the team for the next 16 years. Between her first IIHF Women's World Championship to her retirement in 2018, Ouellette helped Canada win six world championships and four Olympic gold medals, and she recorded 242 points in 220 games. She ranks second all-time in assists, third in games played and points and fourth in goals. The shy Francophone from Montreal grew into a bilingual, confident, strong leader, eventually wearing the 'C' during Canada's epic gold medal win at the 2014 Olympic Winter Games in Sochi. Russia.
Asking any sporting legend to list favourite memories over a storied career is difficult, given the countless teammates, coaches, experiences each of them have. Ouellette is no different. There are so many to choose from, but Ouellette highlights a pair of Olympics: Vancouver 2010 – playing before a sea of Team Canada jerseys at home – and Sochi 2014 – when Canada overcame a late 2-0 deficit and beat the United States 3-2 in overtime.