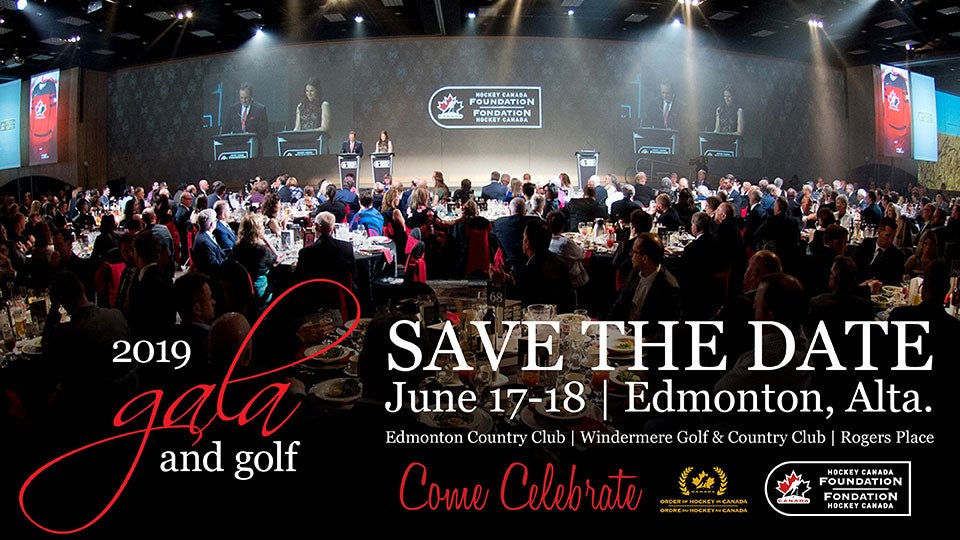 On June 17, the Hockey Canada Foundation will bring the 16th annual Gala & Golf Event to Edmonton. This year's gala dinner will take place on June 18th and celebrate Canada's rich hockey history, recognizing the 2019 Order of Hockey in Canada honourees and any World Chamionship-winning teams. The 2019 Gala promises to pay special tribute to our Canadian traditions, grassroots initiatives, our international successes, and our Order of Hockey in Canada honourees.
June 17, 2019 - Golf


Edmonton Country Club/Windermere Golf and Country Club
June 18, 2019 - Gala


Rogers Place, Edmonton
2019 Order of Hockey in Canada Distinguished Honourees
Jayna Hefford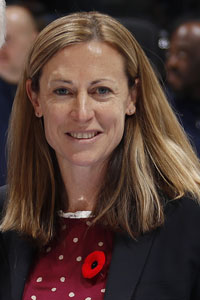 A Hockey Hall of Fame inductee last November and one of the most decorated players in the history of the women's game, Hefford sits as the second-highest scorer with Canada's National Women's Team, amassing 291 points (157 goals, 134 assists) in 267 games from 1997-2014. She owns a trophy case that includes four Olympic gold medals (2002, 2006, 2010, 2014), seven IIHF Women's World Championship gold medals (1997, 1999, 2000, 2001, 2004, 2007, 2012) and a pair of Top Forward nods at women's worlds (2004, 2005), and ranks in the top five in all-time games played, goals, assists and points at both the Olympics and world championship. Currently serving as commissioner of the Canadian Women's Hockey League, Hefford excelled at the club-team level, winning NWHL championships with the Brampton Thunder in 1999 and 2007, and adding a CWHL title in 1008. She was CWHL MVP in 2007-08, and led the league in scoring the following season.



Ken Hitchcock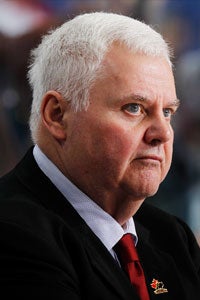 A fixture on the Team Canada bench for more than a decade, Hitchcock got his first taste of international hockey at the 1988 IIHF World Junior Championship, winning gold as an assistant coach. He returned in 2002, winning Olympic gold in Salt Lake City, and added two more at the 2010 Games in Vancouver and 2014 Games in Sochi. Hitchcock also won a World Cup title in 2004, and served as head coach at a pair of IIHF World Championships, in 2008 and 2011. Currently the head coach of his hometown Edmonton Oilers, Hitchcock won a Stanley Cup championship with Dallas in 1999, and his 837 wins leave him third in NHL history. He earned the Jack Adams Award in 2011-12, and was twice named WHL Coach of the Year during his time with the Kamloops Blazers, in 1986-87 and 1989-90.





George Kingston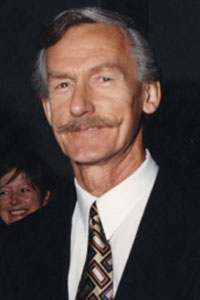 The long-time head coach of the men's hockey team at the University of Calgary – winning six Canada West championships – Kingston made the move to the international game in the early 1980s, serving as an assistant coach with Team Canada at the 1983 IIHF World Championship and 1984 Olympic Winter Games. He was chairman of the 1988 Olympic tournament in Calgary before building Canada's silver medal-winning entry at the 1994 Games as general manager. The first-ever head coach of the San Jose Sharks, Kingston also made NHL stops as an assistant with Calgary, Minnesota, Atlanta and Florida. One of the most respected minds in the game – he has mentored countless coaches, including Hockey Canada CEO Tom Renney – Kingston has used his expertise and experience to help grow the game around the world, working with national team programs in Germany, Norway, Mexico and Lithuania.



Sponsorship Opportunities
This exceptional, formal gala evening will be a wonderful opportunity to meet and mingle with past and present hockey stars while supporting local community and meeting business entertainment needs. Proceeds from the 2019 Hockey Canada Foundation Gala & Golf will support priority initiatives for Hockey Canada, the Hockey Canada Foundation and a local legacy that will remain in Edmonton and the province.
To secure your gala package or for further event information, please contact
D'Arcy Hutcheson [email protected]
Click here to download the complete Gala & Golf brochure (including sponsorship opportunities).