The 2006 Canadian Hockey Foundation Celebrity Classic:A Triple Celebration of Canada's International Amateur Hockey Success
On July 10th and 11th, the Canadian Hockey Foundation held their third Annual Celebrity Classic Gala Fundraiser and Golf Tournament in Toronto. At the Gala, it was a night to remember with Canada's three gold medal teams receiving their championship rings and the unveiling of the Clarkson Cup.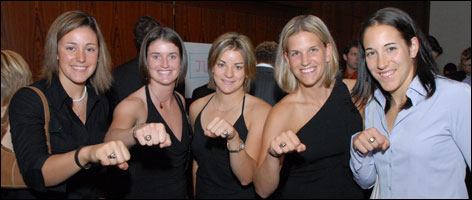 2006 Women's Olympic Champions display their rings
With over 700 people in attendance, the Gala was hosted by TSN's Gord Miller at the Westin Harbour Castle Hotel and was broadcast nationally by TSN Sport Centre. A highlight of the festivities was the ring presentation made to Canada's championship teams. Gord Miller remarked, "There are three teams here tonight who brought distinction to themselves and to their country by winning either Olympic or World Championships. And for the first time, Canada has three such teams in one single year and we're here to honour them here tonight." The guests of honour were:

• 2006 IIHF World Junior Champions
• 2006 Women's Olympic Champions
• 2006 Sledge Hockey Paralympic Champions

Along with the golden celebration in recognition of Canada's international achievements in amateur hockey, the Gala evening event was chosen as the inaugural presentation of the Clarkson Cup. Prior to the ring presentation to the 2006 Women's Olympic Champions, Hockey Canada President Bob Nicholson introduced the Right Honourable Adrienne Clarkson to unveil her trophy, the Clarkson Cup, which will serve as a challenge cup for women's hockey. Madame Clarkson commented that "…women's hockey can only increase and I hope to see this very soon as a challenge cup for leagues. All I'm interested in is excellence in women's hockey. I think it's our national game and what we love. And we should continue with it knowing that boys and girls can become great hockey players." She unveiled and presented the Clarkson Cup to Cassie Campbell, captain of the 2006 Canadian Women's Olympic Hockey Team. Accepting the trophy Cassie Campbell said, "This truly is an honour to accept this and also I think that from now on, you're going to hear little girls in the street saying 'one day I'm going to win the Clarkson Cup' and that's a great thing, so thank you very much."

As well as celebrating Canada's success at world competitive levels, the evening also raised funds for the Foundation's endowment program to provide a legacy of programs to keep Canada at the top of competitive amateur hockey. Fundraising at the event exceeded $260,000, a 25% increase over 2005. To-date, the three-year fundraising total exceeds $800,000.

The following day, the Foundation held its annual Golf Tournament at the Club on Bond Head whose South Course was voted as one of Canada's top three new courses in 2006 by Golf Digest, and voted best new course in 2005 by Travel & Leisure. Rain had fallen the day preceding the tournament, but the sun came out in full force and golfers enjoyed a warm and sunny day at the links. Each of the 48 teams was captained by a member from one of Canada's championship teams, including Cassie Campbell, Justin Pogge, and Paul Rosen. The teams enjoyed a fun day of fast-paced round golf and an opportunity to get to know one of Canada's premier athletes.

The Foundation thanks the Organizing Committee Chair, Tom Bitove, and Honorary Chairs, John McDermott and David Ippolito. Their hard work and leadership helped make the event very memorable. The Foundation would also like to recognize and thank the event sponsors whose support made the gathering of Canada's hockey family possible and supported the Foundation.
---
Tournament Sponsors
The Canadian Hockey Foundation would like to acknowledge and thank our sponsors for the 2006 Celebrity Classic Gala Fundraiser and Gold Tournament. Many are returning sponsors and we appreciate your continuing support, and we welcome our new sponsors. The Celebrity Classic would not have been successful without your valued support.
---
Platinum Sponsors:
BFL Canada
Boston Pizza
---
Gold Sponsors:
Air Canada
Nike Bauer
The Club at Bond Head
Chevrolet
McDonald's
Molson Canadian
Queen Victoria
Royal Bank of Canada
Telus
---
Silver Sponsors :
AMJ Campbell Van Lines
Esso
Nestle
Pepsi
Priszm
The Westin Harbour Castle
TSN