Inugural Canadian Hockey Foundation Celebrity Classic Celebrates Our Hockey Heritage
The Canadian Hockey Foundation held their first Annual Celebrity Classic Gala Fundraiser and Golf Tournament in Toronto, a two-day event to be held annually. It was a night to celebrate Canada's proud hockey heritage and Canada's Olympic Gold Medals earned at the 2002 Salt Lake Games.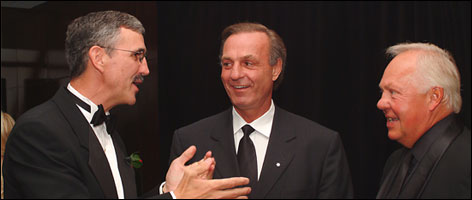 2004 Event Chairman Tim Manning with Guy Lafleur and Yvan Cournoyer
The Masters of Ceremonies were TSN's Gord Miller and Pierre McGuire. They welcomed the 400 guests in attendance for the inaugural event held at the Westin Harbour Castle in downtown Toronto. As part of the evening's fundraising festivities, the Flames Project 75 Hockey Association announced a matching contribution of $140,000 in support of the Foundation. Flames Project 75 Hockey Association was formed in 1984 when the original owners of the Calgary Flames purchased specific oil and natural gas properties, which were donated to Flames Project 75 for the benefit of amateur sport.

The Tournament Co-Hosts were Pat Quinn and Danièle Sauvageau. In addition to his many years of playing and coaching at the National Hockey League level, Pat Quinn has a long history with Team Canada, most recently coaching the men's hockey team to a Gold Medal performance at the 2002 Olympics. Danièle Sauvageau led the Canadian women's team to their first Gold Medal performance in the Olympic Games.

The Gala celebrated Canada's Olympic success at the 2002 Salt Lake Games where both the men's and the women's Olympic teams captured Gold Medals. Pat Quinn and Danièle Sauvageau led a celebration of Canada's hockey heritage, a heritage with a long list of success in international competition. The Foundation was fortunate to have many of the players who represented Canada at world championships from the 1950's to 2004 were in attendance.

The Golf Tournament was held the following day at The Copper Creek Golf Club in Kleinburg, ON. Thirty-two teams were captained by players and coaches from some of Canada's world championship teams including Ralph Backstrom, Tim Brent, Roger Bourbonnais, Sean Burke, Cassie Campbell, Matt Cooke, Yvan Cournoyer, Melody Davidson, Nigel Dawes, Pat Flatley, Wayne Fleming, Billy Gibson, Marc Habscheid, Glen Hanlon, Jamie Heward, Ken Hitchcock, Becky Kellar, Guy Lafleur, Roberto Luongo, Pierre McGuire, Gord Miller, Mike Pelino, Cheryl Pounder, Pat Quinn, Danièle Sauvageau, Gord Sherven, Maxime Talbot, and Steve Tambellini.
Sponsors and their guests enjoyed the bright summer weather, 18 holes of fast-paced golf, and a great day of hockey fellowship.

The Foundation thanked the Celebrity Classic's Organizing Committee Chair, Tim Manning, as well as the Honorary Co-Chairs Larry Tanenbaum and Gordon Nixon for their leadership and hard work in staging the Celebrity Classic Gala Fundraiser and Golf Tournament. The Foundation also recognized and thanked the many event sponsors for their contributions in helping to create such a successful and enjoyable event.
---
Tournament Sponsors
The Canadian Hockey Foundation would like to recognize and thank our 2004 Celebrity Classic Gala Fundraiser and Gold Tournament sponsors. Their valued support helped make our inaugural event a great success!

Platinum Sponsors:
Boston Pizza
Esso
---
Gold Sponsors:
BFL Canada
Cheerios
Mr. Lube
Royal Bank of Canad
---
Silver Sponsors:
Chevrolet
Coca-Cola
Club Intrawest
Molson
The Westin Harbour Castle
Watertowne International
WestJet