About the Hockey Canada Foundation Gala & Golf
---
The largest annual fundraiser for the Hockey Canada Foundation, the HCF Gala & Golf celebrates the on-ice accomplishments of Team Canada at IIHF and IPC world championships during the previous season.
Funds raised from the Gala & Golf go to Hockey Canada initiatives that support accessibility to the game, from grassroots hockey to the international game, as well as to legacy programming in the host city.
Since 2009, the Gala & Golf has proudly contributed more than $4 million to various projects in seven Canadian communities, allowing the game to continue to grow and prosper from coast to coast to coast.
The Hockey Canada Foundation works closely with Hockey Canada to raise money to support minor hockey programs. The Foundation focuses on three strategic priorities: Enable, Educate, Engage.
---
The Hockey Canada Foundation is excited to announce that it will be
hosting its inaugural Virtual Gala on June 14th, 2021
For more information, please see the Gala Sponsorship Brochure which outlines the event itself,
how Gala impacts the Assist Fund, and ways to get involved.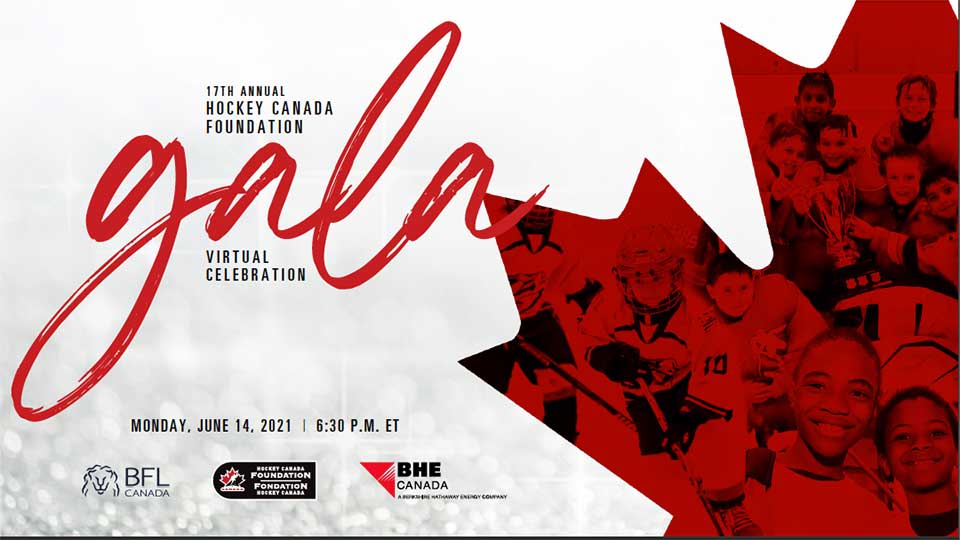 ---
Past Hockey Canada Foundation Gala & Golf host cities
June 15-16, 2020
Postponed due to COVID-19
Niagara Falls, Ont.
Scotiabank Convention Centre
Legends on the Niagara Golf Course
Honoured Team
National Junior Team
Order of Hockey in Canada
Distinguished Honourees
Ken Dryden
Sheldon Kennedy
Dr. Charles Tator
Honorary Chairs
Marcel Dionne
Ralph Mellanby
June 17-18, 2019
Edmonton, Alta.
Rogers Place
Windermere Golf and Country Club
Honoured Team
National Women's Under-18 Team
Order of Hockey in Canada
Distinguished Honourees
Jayna Hefford
Ken Hitchcock
George Kingston
Honorary Chairs
Kevin Lowe
Meaghan Mikkelson
June 18-19, 2018
London, Ont.
London Convention Centre
London Hunt & Country Club
Redtail Golf Course
Honoured Team
National Junior Team
Order of Hockey in Canada
Distinguished Honourees
Mike Babcock
Danielle Goyette
Ryan Smyth
Honorary Chairs
Mark Hunter
Corey Perry
June 19-20, 2017
Saskatoon, Sask.
TCU Place
The Willows Golf & Country Club
Honoured Team
National Para Hockey Team
Order of Hockey in Canada
Distinguished Honourees
Scotty Bowman
Murray Costello
Fran Rider
Honorary Chairs
Mike Babcock
Todd McLellan
June 20-21, 2016
Halifax, N.S.
Cunard Centre
Glen Arbour Golf Course
Honoured Team
World Cup of Hockey Team
Order of Hockey in Canada
Distinguished Honourees
David Branch
Geraldine Heaney
Mario Lemieux
Bob Nicholson
June 10-11, 2015
Toronto, Ont.
Ryerson's Mattamy Athletic Centre
The Country Club
Honoured Team
National Junior Team
Order of Hockey in Canada
Distinguished Honourees
Jim Gregory
Pat Quinn
Serge Savard
June 23-24, 2014
Vancouver, B.C.
Rogers Arena
Northview Golf and Country Club
Honoured Teams
Men's Olympic Team
Women's Olympic Team
National Women's Under-18 Team
Order of Hockey in Canada
Distinguished Honourees
Clare Drake
France St-Louis
Steve Yzerman
August 19-20, 2013
Calgary, Alta.
Markin MacPhail Centre
Priddis Greens Golf and Country Club
Honoured Teams
National Women's Under-18 Team
National Sledge Hockey Team
National Men's Under-18 Team
Order of Hockey in Canada
Distinguished Honourees
Paul Henderson
Dave King
Mark Messier
Honorary Chairs
Sheldon Kennedy
Lanny McDonald
June 25-26, 2012
Toronto, Ont.
Air Canada Centre
Northview Golf and Country Club
Honoured Teams
National Women's Under-18 Team
National Women's Team
Order of Hockey in Canada
Distinguished Honourees
Jean Béliveau
Cassie-Campbell Pascall
Wayne Gretzky
Gordie Howe
Gordon Renwick
Honorary Chair
Larry Tanenbaum
June 27-28, 2011
Ottawa, Ont.
Ottawa Convention Centre
The Marshes Golf Club
Eagle Creek Golf Course
Honoured Teams
Hockey Canada
Program of Excellence
30th Anniversary

June 28-29, 2010
Edmonton, Alta.
Commonwealth Stadium
Honoured Teams
National Women's Under-18 Team
Women's Olympic Team
Men's Olympics Team
June 29-30, 2009
Montreal, Que.
Bell Centre
Summerlea Golf and Country Club
Honoured Teams
National Junior Team
Honorary Chairs
Yvan Cournoyer
Serge Savard
June 23-24, 2008
Calgary, Alta.
TELUS Convention Centre
Priddis Greens Golf and Country Club
Honoured Teams
National Junior Team
National Men's Under-18 Team
National Sledge Team
June 26-27, 2007
Calgary, Alta.
TELUS Convention Centre
Heritage Pointe Golf Club
Honoured Team
National Junior Team
July 10-11, 2006
Toronto, Ont.
Westin Harbour Castle Hotel
The Club on Bond Head
Honoured Teams
National Junior Team
Women's Olympic Team
Paralympic Team
Honorary Chairs
John McDermott
David Ippolito
July 11-12, 2005
Toronto, Ont.
Westin Harbour Castle Hotel
Copper Creek Golf Club
Honoured Teams
National Junior Team
Honorary Chairs
Tom Bitove
Daniel O'Neill
July 2004
Toronto, Ont.
Westin Harbour Castle Hotel
Copper Creek Golf Club
Honoured Teams
2002 Women's Olympic Team
2002 Men's Olympic Team
Honorary Chairs
Larry Tanenbaum
Gordon Nixon