ARENA INFRASTRUCTURE IN CANADA
A Message From Tom Renney, President and CEO, Hockey Canada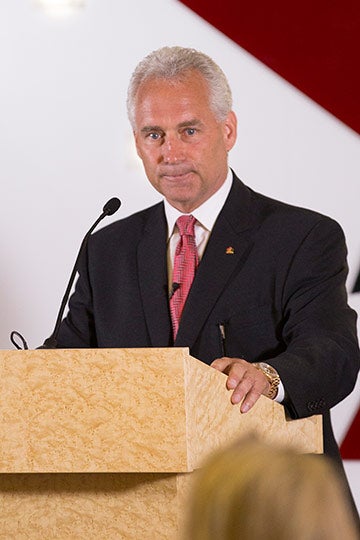 Hockey Canada is one of the largest national sport organizations in the country, with close to 700,000 participants enjoying the game every season. Combine this number with figure skating, speed skating, adult recreational hockey and many other user groups in Canada, and it is easy to see that we must work together not only to retrofit the aging infrastructure that exists, but support initiatives that result in the establishment of new facilities across Canada.
Close to a decade ago, Hockey Canada partnered with Natural Resources Canada and the Canadian Recreation Facilities Council on a very successful National Arena Census, building a comprehensive inventory of arenas across Canada and collecting crucial information with respect to year of construction, energy costs, months of operation and much more.
Of the 1,847 facilities included in the census, approximately 42% were constructed in the 1970s and approximately 73% were built prior to 1980. Many of these facilities now or will very soon need renovations to enable them to continue to meet today's expectations, and with 86% municipally owned, many may not be able to afford the cost of retrofitting.
These numbers were gathered in 2005; one can only imagine the state of Canada's hockey facilities today.
The National Arena Census emphasized that the current infrastructure is at a point where massive funding and innovative funding ideas will be necessary in order to keep up with the growing demand for facilities.
Hockey Canada is constantly looking for programs that will bring more players into the game, from the Hockey Canada Foundation's Dreams Come True program to Bauer's THE FIRST SHIFT and the growth of adult recreational hockey, just to name a few. In addition, Hockey Canada has identified the importance of working with various multicultural communities to showcase hockey and the positive elements to being involved.
However, as Hockey Canada moves to increase its membership and get more Canadian involved, it faces a significant infrastructure roadblock. Hockey Canada cannot pursue increased participation levels on its own; serious assistance is needed in terms of providing the necessary facilities.
Hockey Canada is interested in teaming up with all stakeholders to look for alternative methods of encouraging both retrofitting of aging infrastructure and the building of new facilities across Canada. It will fully support any movement that will not only increase ice availability but will allow future generations to live out their dreams on the ice.
---
INVESTING IN THE FUTURE OF CANADA'S ICE HOCKEY FACILITY INFRASTRUCTURE
Insuring accessibility and the chance to play our national game is a core funding interest of the Canadian Hockey Foundation. The issue of Canada's aging ice hockey facility infrastructure and the lack of new capacity to keep up with our growing population and the corresponding demographic changes has resulted in a looming threat that seriously compromises our ability to provide future generations of Canada's sons and daughters with the opportunity to play our game.
A strong case can be made that playing hockey is the most encompassing of all Canadian cultural activities. In addition to the daily physical activity associated with playing hockey, participation continues to be an important factor to the overall health and wellness of young people today and crucial to a balanced lifestyle for our youth. Along with the development of hockey skills, active involvement helps build life skills that will serve our youth well throughout their lives, with the added benefit of keeping them on the ice and out of hot water. » more