So, how old are Canada's rinks?
---
Based on the Hockey Canada/CRFC arena census done in 2005 – 1,857 arenas supplied us with building dates.
Download the National Arena Census ExecutiveSummary (pdf)
Approximately 45% of Canada's rinks (1,350) are all ready beyond their projected life expectancy. Arenas approximate life expectancy is 32 years depending on different factor
Approximate Age of Facilities Based on CRFC/Hockey Canada Arena Census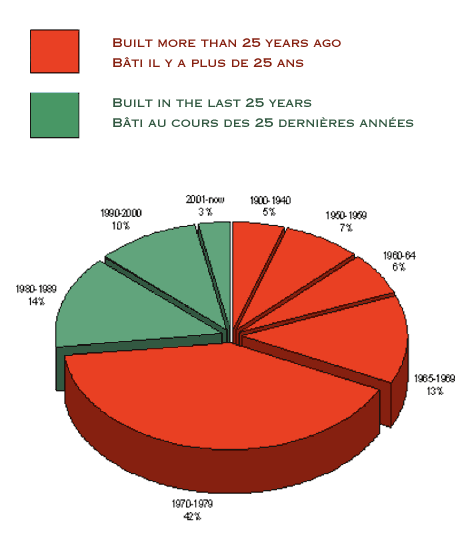 A Word From the CRFC
The Canadian Recreation Facilities Council (CRFC) is comprised of 13 Provincial and Territorial Facility Associations across Canada.
Our Members have collectively provided quality facility services for over 200 years. Information relative to the programs and services can be obtained from each organization separately.
"Recreation infrastructure in Canada is in a state of physical decline. The vast majority of publicly owned recreation facilities were built either as post war memorial buildings or during the late 1960's and early 1970's as Centennial projects.
This was a time when Government dedicated capital funding programs to assist municipalities with the construction of much needed sport and recreation facilities. Today, facilities of this vintage not only require capital renovations or replacement, but they are more expensive to operate. It is time to revisit the infrastructure of our past, if we are to sustain the infrastructure of our future."