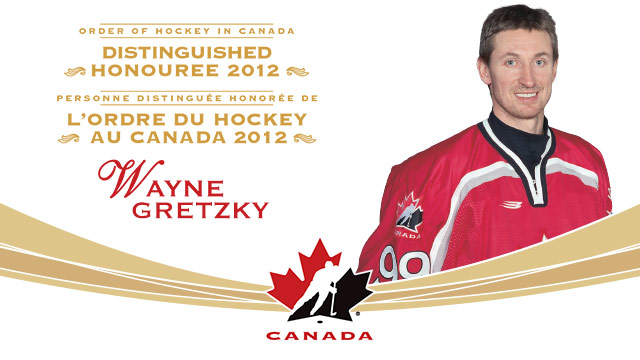 Hockey Accomplishments
• Executive director, Canada's Men's Olympic Team, 2006 Olympic Winter Games (seventh place)
• Executive director, Canada's National Men's Team, 2004 World Cup of Hockey (first place)
• Executive director, Canada's Men's Olympic Team, 2002 Olympic Winter Games (gold medal)
• Played at 1998 Olympic Winter Games (fourth place)
• Captained Canada at 1996 World Cup of Hockey (second place)
• Captained Canada at 1991 Canada Cup (first place)
• Captained Canada at 1987 Canada Cup (first place)• Captained Canada at 1984 Canada Cup (first place)
• Played at 1982 IIHF World Championship (bronze medal)
• Played at 1981 Canada Cup (second place)
• Played at 1978 IIHF World Junior Championship (bronze medal)
• Retired in 1999 as holder or co-holder of 61 NHL records
• Played for Edmonton (1979-88), Los Angeles (1988-96), St. Louis (1996) and N.Y. Rangers (1996-99)
• All-time NHL leader in goals (894), assists (1,963) and points (2,857)
• Has more assists than any other NHL player has points
• Won four Stanley Cups with Edmonton (1984, 1985, 1987, 1988)
• Nine-time Hart Trophy winner as NHL MVP (1980-87, 1989)
• Two-time Conn Smythe Trophy winner as NHL playoff MVP (1985, 1988)
• Ten-time Art Ross Trophy winner as NHL scoring champion (1981-87, 1990,1991, 1994)
• Five-time Lady Byng Trophy winner as NHL most gentlemanly player (1980,1991, 1992, 1994, 1999)
• Four-time Lou Marsh Trophy winner as Canadian athlete of the year (1982,1983, 1985, 1989)
• Eight-time NHL First Team All-Star (1981-87, 1991)
• Seven-time NHL Second Team All-Star (1980, 1988-90, 1994, 1997, 1998)
---
Additional Background
• Born January 26, 1961 in Brantford, Ont.
• Founded the Wayne Gretzky Foundation in 2002, whose mission is to provide less fortunate youth with the opportunity to experience the sport of hockey
• Serves as Honorary Chairman of Ronald McDonald Children's Charities in Canada
• Is an Athlete Ambassador and Honorary Member of the Board of Trustees of Right to Play, an athlete driven humanitarian organization that uses sports to enhance child development in some of the most disadvantaged communities in the world.
• Is also a participant in "Hands That Shape Humanity," a project for the Desmond Tutu Peace Centre.
---
Honours
• No. 99 jersey retired league-wide in 1999
• Inducted into Hockey Hall of Fame in 1999
• Inducted into IIHF Hall of Fame in 2000
• Named an Officer of the Order of Canada in 1984
• Promoted to Companion of the Order of Canada in 1999
• Named centre on IIHF Centennial All-Star Team in 2008
• Ranked as the No. 1 Canadian athlete of the 20th Century